Fall Color Likely Will Be Good Despite Drought
Fall Color Likely Will Be Good Despite Drought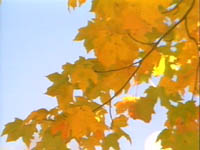 LEXINGTON, Ky.—
Weather conditions are right for Kentucky's leaves to start showing the traditional yellows, oranges, and reds. Although colors this fall could be slightly less brilliant due to the drought, Kentucky will still experience a colorful season.
"We'll still have decent fall color this year, but it may be more subtle and not quite as bright," said Tom Kimmerer, tree physiologist in the UK College of Agriculture. "In some areas severe drought could cause less coloration because of leaf loss, but I've been to several areas of eastern Kentucky in the last few weeks and the overstory trees are coping very well."
Fall leaf colors are the result of changes that take place in the leaves. Natural pigments that produce yellow are always in the leaf, and are revealed as the tree breaks down the green chlorophyll. Other pigments that provide the red, orange and brown colors are made by the leaf as it begins to die. The shorter days and cooler temperatures of autumn bring about these changes.
"We're already starting to see color transitions, and typically we would see them from mid-September to late-October," Kimmerer said. "We're getting the clear days and cool nights that tend to bring out fall color."
Different colors are often associated with different kinds of trees.
"Oaks are typically browns and reds, yellow poplars tend to show yellow leaves, white ash is purplish-blue, and red maples and sugar maples often are orange or red. Hickories tend to be a golden color," said Doug McLaren, Extension forestry specialist.
Knowing that tree genetics play an important role in fall color can be useful information for people choosing landscape trees.
"For example, if you want good red fall color on red maples you should choose an outstanding cultivar such as October Glory, Red Sunset, or Autumn Flame," said Bill Fountain, Extension horticulture specialist. "While these cultivars may initially cost a little more than seedling grown red maples, the superior effect makes the slight difference well worth the investment." Fountain said the red pigment that leaches onto concrete walks during rainfall often leaves a red imprint and adds to the beauty of the fall season.
"We get double duty from our fall colors for awhile, until the next rain washes the imprints away," Fountain said.
Because of irregular, patchy rainfall across the state, travelers may need to be a little more diligent in searching for good fall color.
"Some areas have been hit hard by drought and have poor color, but you might go around the bend to the next hollow and see spectacular color," said Kimmerer. "I recommend people plan on traveling around a little bit more this year and keeping their eyes open for the best places."