Family Health Conditions Inspire UK Grad to Return, Launch Career in Dietetics
Family Health Conditions Inspire UK Grad to Return, Launch Career in Dietetics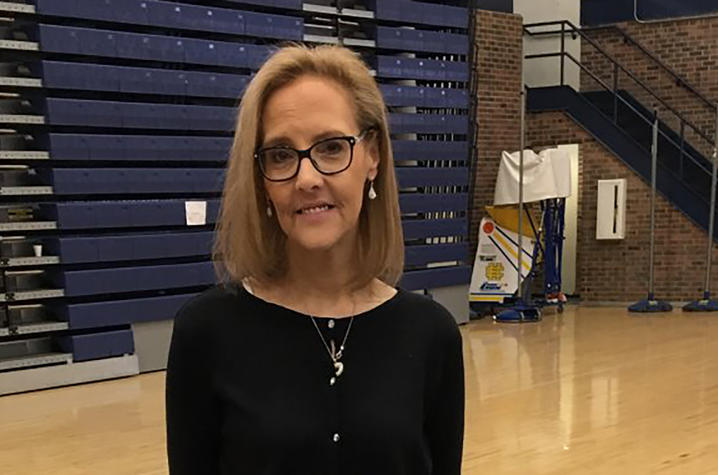 LEXINGTON, Ky.—
When Pam Thaxton graduates from the University of Kentucky this Friday, she will do so just as she has completed more than half of her coursework virtually. 
Thaxton is earning a bachelor's degree in dietetics and human nutrition (DHN) from the UK College of Agriculture, Food and Environment.
Since March, she has been juggling multiple roles: college student, Zoom aficionado and full-time care taker — all during this global pandemic.
"I live with and take care of two elderly family members who are highly compromised. They have not left the house since early March, and March 12 was the last time I have left my house except to go to the grocery store or a doctor's appointment."
Thaxton previously attended UK over a decade ago but left early, later on resuming her studies and earning two bachelor's degrees in biology and chemistry at a nearby university. But it was an encounter with a dietitian years later that changed her career path and ignited her interest.
After Thaxton's mother underwent open-heart surgery, a local registered dietitian took them on a field trip to the grocery store. While sorting through the aisles, the dietitian taught her all about the smartest food choices for heart failure patients. 
"She was so knowledgeable and amazing that I went home and researched what a dietitian was. I signed up to take a Human Nutrition and Wellness course at Bluegrass Community and Technical College that was taught by a registered dietitian. I adored the class and halfway through the semester I wrote the dietetics and human nutrition department at UK and requested a meeting, as I wanted to apply."
Thaxton herself has also experienced health issues in recent years, and this experience with the dietitian made her realize that she wanted to better understand how the human body functions.
"I realized all the physiology I knew left me in the dark about how our bodies really function. All living things need energy and no one had ever taught me what our bodies do with the food we eat."
While working toward her degree, Thaxton has served as a DHN 101 undergraduate instructional assistant, been a member of the Student Dietetic and Nutrition Association (SDNA) and performed student research in the physiology department under Assistant Professor Catalina Vélez-Ortega until COVID-19 forced labs to close.
Juggling full-time caregiver duties on top of transitioning to completely virtual coursework during a global pandemic has not been without its challenges for Thaxton. But, with the support and assistance from faculty, she found a way to transform adversity into action.
"I have to admit it was really hard last spring as I was extremely worried about my family. There was so much uncertainty about transmission and mortality rates, and I worried about their welfare constantly. But over the summer, with help from two of my professors, I found a way to lift myself mentally and spiritually. I attended church services online and found ways to continue studying physiology through podcast lectures from several universities."
Thaxton, who now jokes she has double-majored in Zoom and DHN, is not letting COVID-19 stall her future career plans. 
Now that she has found her passion, she's going all in. In January, Thaxton will continue on in the College of Agriculture, Food and the Environment as a graduate student. And from there she has her eyes set on a Ph.D. program.
"I want to really enjoy the research opportunity I have been given to work with Assistant Professor Makenzie Barr for the next few semesters. This will be the first time I have done human research, and I look forward to expanding my research experiences. I have done three years of wet lab chemistry research, seven months of animal research, and I look forward to learning about working with human populations."
Thaxton said that, through her studies here at UK, she has realized how important community nutrition is and how rewarding of a career that could be for her.
"The dietetics department at University of Kentucky is like no college experience I have ever had. The environment is student-centered and nurturing. The encouragement you receive on a daily basis from faculty drives you to succeed. Luckily, I get to spend three more semesters with this fantastic faculty while I work on my master's program."
---
Family Consumer Sciences