FFA Begins Partnership With Kentucky
FFA Begins Partnership With Kentucky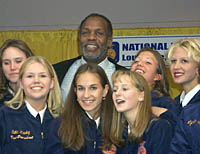 LOUISVILLE, Ky.—
For the first time in its 72-year history, the National FFA Organization did not hold its national convention in Kansas City. Instead, the meetings and festivities were moved to Louisville, Kentucky.
For nostalgic reasons, many involved were sad to say goodbye to Kansas City, but agreed moving the event to Kentucky would be an improvement. The National FFA Convention, America's largest student gathering, simply outgrew Kansas City. The Kentucky Fair and Exposition Center provided a way to make the convention bigger and better for nearly 50,000 students in 1999.
This year the convention theme was "The Signature of Success."
"Many people credit their signature of success to the experiences that they had in the FFA, like attending this convention," National FFA Advisor, Dr. Larry Case, said to the general assembly of FFA members. "You are developing life-long skills that will prepare you for any job. You are participating in leadership events and conferences that will challenge you to prepare for the future."
Role models are an important part of the signature of success. The FFA Convention provided many keynote speakers and well-known personalities to interact with students. Danny Glover, actor and inspirational speaker delivered a message to students in the general session.
"What an experience to be here," Glover said. "I've always known I wanted to work with youth, whether as a teacher, counselor or principal. I'm grateful for the chance to speak to an audience of this size and character."
Glover also spoke about the importance of family and encouraged students to show more compassion and understanding to everyone.
"The choices we make to be selfish or self-centered are just that -- choices," he continued. "But we can make different choices. Choose to be caring, to have compassion, to have patience and understanding. That's what we need. As individuals, we owe it to our community and to ourselves."
After his keynote address, Glover spoke to the media in a short press conference before meeting with the Ohio County, Ky. FFA chapter. The Ohio County group won the chance to privately meet with Glover in the VIP Room. Glover answered questions and posed for photographs. The Hollywood film star takes three weeks off each year to visit schools and talk to kids about community involvement and literacy.
The FFA Convention gave many universities, organizations, and businesses a chance to showcase themselves and their products at the Career Show.
The University of Kentucky College of Agriculture set up a booth at the show to encourage FFA members to explore UK's study programs. Beth Prewitt, UK College of Agriculture student affairs officer, said the convention's move to Louisville makes it easier for more Commonwealth FFA members to attend.
"We've expanded our booth size and tried to have more (UK) students available to talk (to FFA members)," she said. "The students are not only looking for an opportunity to go to college, but they want something to do while they're here (at the convention). "
The UK booth featured a "wheel of fortune" displaying different agricultural majors and also had the Agriculture Ambassadors stamping hands with Wildcat paw prints.
Prewitt thinks the FFA Convention has a huge economic impact on Kentucky, but it also gives Kentucky a chance to showcase it's agriculture with state tours of horse and tobacco farms, as well as other enterprises.
The National FFA Convention is committed to Louisville until 2005, when the current contract ends. But many speculate the contract will be renewed and the convention will remain in Kentucky for many years. – 30 –