FFF Camp a Time to Socialize, Learn and More
FFF Camp a Time to Socialize, Learn and More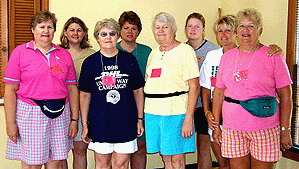 Groups of families and friends often are drawn to the Fun, Food and Fitness Camp to get together as well as to gain ideas to improve their health. This weekend event takes place the fourth weekend of June at North Central 4-H Camp near Carlisle.
"Camp this year was special because it was the first time the eight of us– three aunts, their only daughters, my mother and me– were together at this camp," said Lisa Kelly of Campbell County, who first attended Fun, Food and Fitness in 1993 after seeing a flier in a local store window.
"We're all extremely close to our mothers and this is a nice weekend get-away with them," she added. "The camp also is educational and inexpensive. Each year I learn something new, come home and try to incorporate it into my life. Plus, we usually share a cabin with others and we enjoy meeting new people."
Joining Kelly at the camp this year were her mother, Jean Norris; three aunts, Mary Lou Ernst, Shirley Krumpelman and Eileen Haigis; and their daughters Heather Fry, Maria Granger and Noreen Muth, respectively.
Trish Brunkhart of Boone County has gained several benefits from her first visit to the Fun, Food and Fitness Camp this year.
"My daughter runs every morning for exercise," she said. "When I returned from the camp, I asked if she would start exercising with a walk instead. So now, I walk 10 minutes with her; then she starts jogging and I walk another 10 minutes home. This way, I walk 20 minutes on a regular basis and have an opportunity to grow closer to my daughter. I would never have thought of trying something like this if I hadn't gone to the Fun, Food and Fitness Camp."
Ginger Gray started the camp in 1982 when she was an area specialist for the Expanded Food and Nutrition Education Program in Boone, Campbell and Kenton counties. That camp operated for six years, according to Rosie Allen, now area EFNEP specialist for the expanded 27- county area.
"When I came to Boone County in 1991, several people said they really enjoyed the camp and asked about starting it again," Allen said. "Since it was so popular, we involved the 27 counties in planning and taking part in the Fun, Food and Fitness Camp, which usually draws more than 70 people each year."
In addition to families, groups of friends often gather at the camp, she said. Last year, a group of 13 from Kenton County attended the camp. The women take a trip together each year and decided to come to the Fun, Food and Fitness Camp.
The 1999 camp helped several participants, according to Allen.
She said, "One woman wrote on her camp evaluation, 'I know I should eat better and exercise more but this weekend helped put it in perspective and hopefully gave me the incentive to stick with it.'
"Another woman wrote that her goal is 'to teach my daughter about a lot of the things I learned here at camp.'"