Field Day Spotlights Small Family Farms And Farm Safety
Field Day Spotlights Small Family Farms And Farm Safety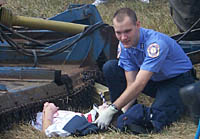 LEXINGTON, Ky.—
University of Kentucky's sister university, Kentucky State University, hosted a sustainable agriculture field day Sept. 16 on its research farm outside Frankfort, Ky. Session and speakers led workshops and discussions about specialized aspects of the small farm, including livestock management, horticulture, aquaculture, apiculture, and farm safety.
Governor Paul Patton discussed the value of small farms to Kentucky in an address to field day attendees. He also discussed the importance of safety on the farm.
"No doubt, farming is a hazardous job," Patton said. "The old way of thinking was that it's just a part of the job. But in Kentucky, one farm fatality is one too many."
Agriculture Commissioner, Billy Ray Smith, joined Patton to officially proclaim Sept. 19 to 25, 1999 Farm and Home Safety Week. "We are making great strides in farm and home safety," Smith said. " In 1995, we suffered 48 lives lost to farming; in 1998 it was 28 - a 40 percent reduction. We will not rest or quit working until we reach zero deaths."
Director of KSU's Land Grant Program, Harold Benson, said small farms usually have older machinery without the newest safety features and that leads to more injuries and deaths. He said small farms are the backbone of Kentucky agriculture, playing a key role in communities and rural living. Because of this, safety is a big priority to keep the farms running.
The highlight of the field day was a demonstration by the Kentucky Department of Agriculture. State Fire and Rescue Training officials presented a mock rescue of a child who had fallen off the fender of a tractor and underneath the mowing machinery. KDA Farm Safety Field Officer, Dale Dobson described what was going on as the child was rescued by paramedics and firemen. Everything in the demonstration was a real representation of how the emergency would routinely be handled. Field day attendees watched as the child was removed from the bush hog and carried to a waiting helicopter. In reality, the child would then have to be flown to a major medical facility.
Most farm accidents take place in areas that are not quickly and easily accessed by rescue personnel, making the process very time consuming. KDA was trying to show how easily a situation can turn dangerous and life threatening. They encouraged farmers and others to not allow riders on their tractors. The best solution is prevention.
More information about farm safety is available on the World Wide Web at http://www.ncs.org/farmsafe.htm