Fifth annual Tree Week set for Oct. 8-16
Fifth annual Tree Week set for Oct. 8-16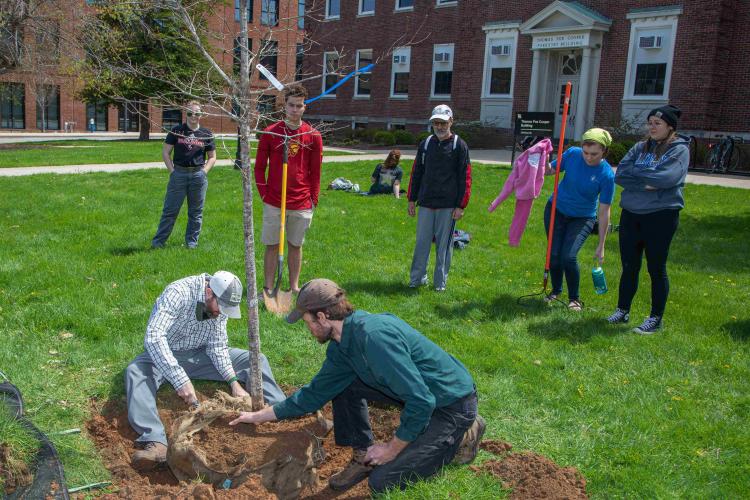 Lexington, Ky—
The University of Kentucky's fifth annual Tree Week is Oct. 8-16. The event gives citizens a chance to learn about and appreciate the state's green spaces. People of all ages may participate in various activities, including tree plantings, tours and hikes, tree walks, educational programs, art, yoga and more.  
UK College of Agriculture, Food and Environment, College of Medicine, College of Arts and Sciences, Lexington-Fayette Urban County Government, Lexington Public Library, Fayette County Public Schools, merchants, nature centers and community and nonprofit organizations are all involved in the week-long celebration organized by UK's Urban Forest Initiative and the community-led Tree Week Planning Team.  
"Tree Week is celebrated in Lexington and throughout the state to highlight trees and nature where we live through activities that include tree walks, presentations, yoga under the trees, trees and your health, and many others," said Mary Arthur, professor emeritus in the UK Department of Forestry and Natural Resources. "We hope that the events offered in Lexington provide everyone, regardless of background, age, or ability, at least one way to get outside that week to connect with trees and nature."  
Organizers will plant three special trees to celebrate the week. One will recognize Tree Week, one will honor outgoing LFUCG council member Susan Lamb and her dedication to tree preservation during her time in office and the third tree will symbolize the vital role trees play in mitigating the effects of climate change.  
"With a changing climate, it is more important than ever to look to our tree canopy for support and relief," Arthur said. "Communities with trees are doing their part to mitigate global warming. They help keep cities cool, remove pollutants from the air and water, act as a carbon sink and have important psychological and physical health benefits. There are many things the public can do to support trees, including learning how to properly care for a tree, planting new trees and even learning the names of trees. Tree Week will celebrate how to better care for our urban forest."   
Tree Week has more than 60 events scheduled. Some of the many events this year include Small Trees for Small Spaces, The Kentucky Maple Syrup Project, Restoring Nature with Trees, Identifying Kentucky's Trees, Forest Bathing for Health and Wellness, Starting a Front Yard 'Permaculture' Garden and Wood Carving for Beginners. 
To learn more about Tree Week, its activities and to register, visit https://ufi.ca.uky.edu/treeweek.
---
Environment
Forestry
Sustainability