Forestry Camp Opens World of Wonder for Lafayette High School Senior
Forestry Camp Opens World of Wonder for Lafayette High School Senior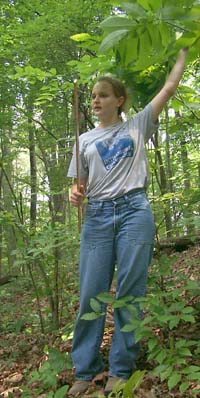 LEXINGTON, Ky.—
When school lets out for summer vacation, most soon-to-be-seniors get ready to enjoy their last high school summer. Not many like to spend their break in academic pursuits.
Lauren Collier, senior at Lexington, Kentucky's Lafayette High School, was one of 26 students chosen to attend the week-long Kentucky Forest Leadership Program in Jabez, Ky. June 7 through 11. Collier spent the week in activities related to forest measurement, plant identification, surveying, soil science, wildlife habitat assessment, water quality evaluation, wood utilization and fire management.
"You get to be about a sophomore (high school) and you start asking yourself what you want to do with your life," Collier said. "I could never consider a desk job. So I asked myself, what is my passion, what is my dream; everyone has to have a dream. I've always been interested in forest ecology and the environment."
Collier and the other students are given an 80-acre forest. They must decide by the end of the week how the forested land will be used. Professional forest and natural resource managers from the University of Kentucky's forestry department, Kentucky Division of Forestry, Kentucky Division of Fish and Wildlife, USDA Forest Service and private forest industry leaders provide training and support during the week. They can answer questions and give tested advice.
Doug McLaren said the hands-on experience students get at camp is extremely valuable since these students will be future leaders in the forestry field.
"When they come here to camp, they usually know nothing (about forest management)," McLaren said. "By the end of the week, they're pros."
Not all the campers are high school students this year. Michelle Mau, a teacher at Oneida Baptist School, came to the Kentucky Forestry Leadership Program to gain knowledge she can use in her classroom.
"I teach environmental science and I like any opportunity I get to learn about the environment, " Mau said. "We have 400 acres at Oneida for two outdoor classrooms. The students love to get out of the classroom and learn about nature."
Collier said the camp experience will teach her to better understand nature and possible careers in forestry. She and Mau agree the forestry program is valuable; whether it helps define a career path or provides ideas for teachers to use in the classroom.