Goat Production Offers Opportunity for Farmers Looking to Diversify
Goat Production Offers Opportunity for Farmers Looking to Diversify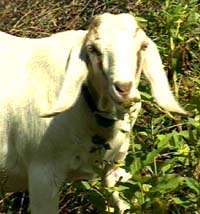 BOONEVILLE, Ky.—
Farmers in eastern Kentucky are having success raising goats. But profits are not from milk and cheese as you might expect – the money's being made in meat production.
"There's a lot of excitement in the meat goat industry right now because we're not currently supplying the national market," said Neil Hoffman, Owsley County producer and president of the Eastern Kentucky Goat Producers Association. "We're importing goats into the United States when we could be raising those goats right here in Kentucky."
Goat meat, called chevon, is in significant demand, particularly in the large, urban areas of the east coast. Several Kentucky producers market their animals through collection sales. The animals are then shipped to Pennsylvania.
"There's good potential here for continued growth," said John Ballard, marketing specialist with the Kentucky Department of Agriculture. "You've got the ethnic market coming in, and a lot of people are starting to eat goat meat. If we had the numbers we could perhaps get the processing done here in Kentucky, but right now we just don't have the numbers. We're also looking to improve the future market for dairy goat production and processing as well."
Kentucky has the land, forages, and water supplies required for goats. That means goats could offer a good opportunity for producers wanting to diversify. But, as with any agricultural enterprise, being successful means becoming knowledgeable before jumping in.
"I think one of the misconceptions about goats is that you can just turn them loose in the field, and when you get ready you just load them up and sell them," said Paul Sizemore, Owsley County Cooperative Extension Agent for Agriculture and Natural Resources. "It doesn't work that way -- to make money in goats you have to have a good breed and a quality product, and that means learning as much about the animal as you can."
Sizemore said county UK Cooperative Extension offices are a good starting point for producers wanting to learn more about goat production. Agents can provide information, and also put clients in touch with experienced goat producers. Some counties offer field days where interested producers can visit a farm, see the animals, and talk to veterinarians and other experts about getting started.
"The field day is a way of getting people interested," said Sizemore. "A lot of people don't know anything about goats, so they can come to the field day, ask some questions, receive some training, and decide how they want to proceed."
Many farmers, such as Hoffman, believe goats can fit into existing farm enterprises, or fill gaps left when other enterprises are lost.
"On our farm we have the goats, we also have two acres of tobacco, an acre of fall cabbage, vegetables for the farmer's market, blueberries, and strawberries," Hoffman said. "The more diversified you are in today's agricultural economy, the better."
According to the 1997 Census of Agriculture, there are about 1,600 farms in Kentucky that have goats. Popular breeds for milk and cheese are Saanen, Toggenburg, Nubian, and Alpine. A popular meat goat is the Boer, which originated in South Africa.
In addition to county Extension offices, information also is available from the Kentucky Dairy and Meat Goat Association, and the Eastern Kentucky Goat Producers Association. Neil Hoffman can be reached at 606-593-6584.