Grapes Being Tested For Wines
Grapes Being Tested For Wines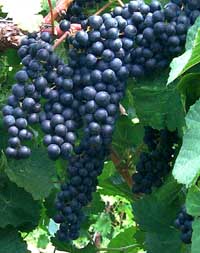 PRINCETON, Ky.—
Wine-making is gaining interest in Kentucky and a research project by the University of Kentucky Horticulture Department is aimed at finding grape varieties that are adapted to the state's climate for making top quality wines.
The project, in its third year, is getting its first harvest from the young vines.
Grapes have a high income potential per acre especially on upland sites that have limited income possibilities. The typical wines from Europe or the West coast of the United States are made with European type or vinifera grapes but are not well adapted to this state's climate.
However, in recent years northern Europeans, who also have winter hardiness problems with vinifera grape varieties, have been crossing these varieties with hardier varieties including some from China. Many of these crosses exhibit improved hardiness and excellent fruit quality.
The late Dr. Bob Goodman, a University of Missouri professor and vineyard owner, spent time in the Czech Republic, Hungary, Bulgaria, Moldova and the Ukraine and brought some of the best varieties to his state where they have been growing under post entry quarantine. The varieties were selected based on winter hardiness, disease resistance and fruit quality.
Three years ago, the first varieties were released to selected land grant institutions and UK was offered the chance to be the other Midwest state to participate in the research.
Eighteen cultivars were sent to the UK Research and Education Center in Princeton and planted in the Spring of 1998. More are expected to be sent in the coming years, as they are released from quarantine, after being cleaned of viruses that are not present in the United States.
The experimental plan is for UK to grow and evaluate variety winter hardiness and disease resistance. Through cooperation with the Kentucky Vineyard Society, seven members are taking this year's harvest to make small experimental batches of wine which will be evaluated for quality.
A number of these selections should be well adapted to Kentucky. This would allow the fledgling wine industry to rapidly commercialize and profit from new outstanding varieties, according to Dr. Jerry Brown, an Extension fruits specialist at the UKREC in Princeton.