As cultures become more suburban and generations are further removed from the farm, the message of where food comes from and how it gets to the table is becoming more important.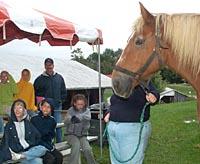 Campbell County Extension personnel are working hard to make sure northern Kentucky school children know these things and more. A program for fifth-graders called Grow It, Eat It, Wear It, in it's seventh year, is teaching students the basics of livestock, crops, food sources, niche markets such as beekeeping and honey production and the growing field of aquaculture.
"We're trying to educate the students about the importance of agriculture," said Don Sorrell, Campbell County Extension agent for agriculture and natural resources. "We do that in unique ways. We have demonstrations ranging from plants and animals to plants and fish."
Sorrell said they want to show kids that farmers are a vital part of food production.
"I was doing a program at an inner city school and I asked them where their food comes from," Sorrell said. "Some would say the store, others said the refrigerator but when one girl said the microwave, I knew I had to do something."
"We have students here from urban, inner city and parochial schools," he said. "They may have no idea what a corn plant is or what a cow is; they may think a cow is a horse. They have the opportunity to not only see where the food comes from, but to also see the animals it comes from and make the connection."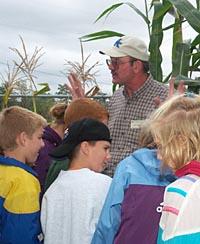 Students were broken up into six groups which rotated through different workshops. In one they learned how sheep are sheared and what products come from wool, and in another they learned how milk is obtained from cows and what products come from milk. In yet others, they learned about how a horse is groomed and how powerful it is; they learned about seeds and how they grow into plants that produce nutritional vegetables and products for their meals.
Some of the students grew up in a rural setting, while others had never seen anything related to a farm.
"I learned about different farm animals and where food comes from," said Christina Carmack, a fifth-grade participant. "I learned there are different types of cows and they are used for different kinds of things."
Carmack said before the program she did not know where her food came from and now she does.
"I learned how to shave sheep, that was pretty fun." said Matt Woeste, a fifth-grader who lives on a farm in California, Ky. "We have animals like chickens and rabbits and we are going to get some calves. I didn't know about the planting stuff, but we do have corn in our fields, so that was good."
The programs are not just for the students. Many teachers aren't aware of the sources of food and clothing or if they are, they may not have the resources to teach the basics to their students. The Extension program gives them the tools they need to effectively communicate agricultural topics.
Teachers will take home a goody bag full of resource information from commodity groups as well as snack and treats for students. Teachers can use these treats in the classroom and talk about the product and how it is produced. It just allows them to take it one step further.