Homemaker Leadership Retreat Offers Fun, Educational Information
Homemaker Leadership Retreat Offers Fun, Educational Information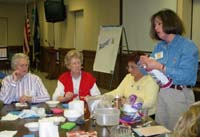 JABEZ, Ky.—
The weather was unusually dreary for April, but it did not dampen the enthusiasm of the some 50 Extension Homemakers from the Louisville area participating in a two-day leadership retreat.
The annual leadership retreat brings together homemakers from several counties with the goal being to learn leadership skills so they will become more active at the club, county, area or state level, said Nelda Moore, Jefferson County Extension agent for family and consumer sciences for the University of Kentucky Cooperative Extension Service.
"We'd also like them to learn skills on how to increase membership and encourage new members to come into their clubs so the club will grow and continue in the future," she said.
Leadership skills can be used in their families or in any aspect of their lives. The leadership skills learned through the program are also aimed at encouraging community involvement.
"As they become active and learn skills in Homemakers in the club or county or area level then they will venture out into their community, and we would hope that someday they might become more politically active, maybe even running for office," Moore said. "All the Homemakers are pretty active in their small community, what we'd like to see is maybe them become more active on a county level."
Activities include learning about different personality styles and what strengths and weaknesses those styles bring to an organization or even a family, as well as potential conflicts between personality styles, said Madonna Weese, Jefferson County 4-H agent and program presenter. Other activities included team building and crafts.
Kathy Lilly Bryson, Spencer County Extension agent for family and consumer science, said she encourages her Homemakers to attend the workshop to gain new perspectives.
"Here they get a little different taste and they learn from each other," she said. "They get to see how other leaders and Homemakers work and they take those skills back and share them with their club."
Oldham County Extension Homemaker Peggy Townsend has held numerous leadership roles from the club to state level and is currently secretary of the state Extension council. She said leadership programs are vital for equipping people to take part in leadership roles.
"Last year, I led a class and I had everyone come to the microphone, introduce themselves and tell their first contact with Homemakers," she said. "Some found it very hard to do while others it was a natural for them. It was very interesting to see how the group bonded and developed from that point on."
Jefferson County Extension Homemaker Doris Baker said through the area retreat you meet a lot of new people and gain from their ideas.
"The agents do such a good job that, even though it is training, they make it so it is fun for you," she said. "I think it's a must for a Homemaker. I know I've learned so much from the retreats. We really talk it up and try to get more members to come."
This was Shelby County Homemaker Brenda Phillips' first time to attend a leadership retreat. As president of the Finchville Homemakers, she said she thought it was important to attend. She said she was already learning some things about herself, including her personality style.
"I think this will be a help and will be helpful in my group on understanding how people work together," she said.
 For more information on Extension Homemakers contact your county Cooperative Extension office.
                                        -30-