Horse farm sees success from pasture renovations
Horse farm sees success from pasture renovations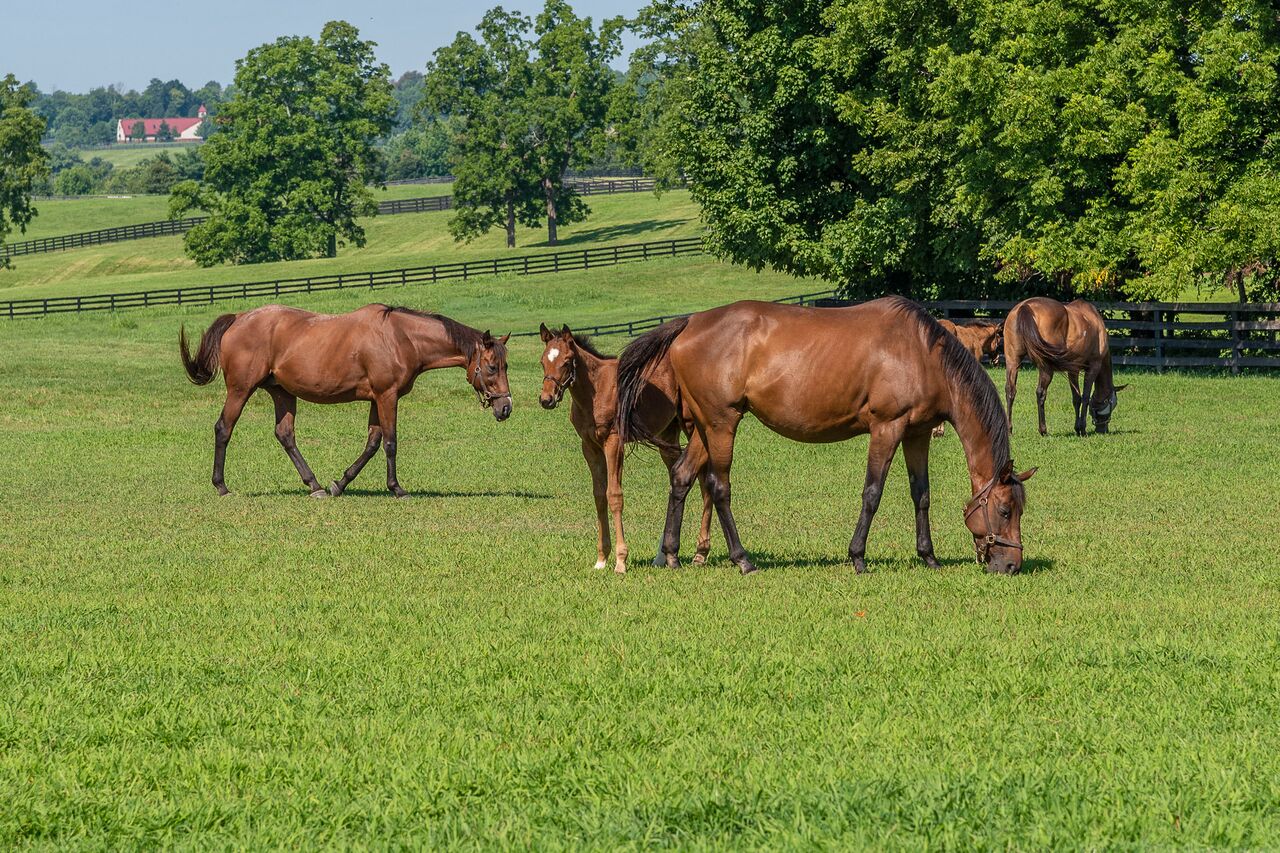 LEXINGTON, Ky.—
To view the video, click here.
A Kentucky Thoroughbred horse farm is reaping the benefits of healthier mares and foals due to pasture renovations they made over the past year with guidance from personnel in the University of Kentucky College of Agriculture, Food and Environment.
In 2017, Mill Ridge Farm in Lexington experienced significant foaling problems that appeared to Marc Richardson, the farm manager, to be classic symptoms of fescue toxicity.
"Last year, we had multiple foalings that required veterinarians to come out," Richardson said. "We also had mares that did not have any milk production."
Under the advisement of the farm's veterinarian Dr. Stuart Brown, Richardson contacted UK forage extension specialist Jimmy Henning and Krista Lea, program coordinator for UK's Horse Pasture Evaluation Program.
"The Horse Pasture Evaluation Program really started to help horse farms better understand pasture management and look at fescue toxicity," Lea said. "Over the years, we have increased the size and the scope of the program primarily due to demand."
Henning and Lea met with the farm personnel at Mill Ridge. They took forage samples from pastures frequented by pregnant mares. The samples were analyzed, and the results confirmed that the tall fescue in some of the farm's pastures had high ergovaline levels. Ergovaline is a toxin produced by endophyte-infected tall fescue that affects pregnant broodmares.
Henning and Lea made recommendations that included completely killing off two fields with the highest ergovaline levels and reseeding them with bluegrass, orchardgrass and a little perennial ryegrass to help with forage establishment. This meant taking those two fields out of production for almost a year. They removed only the fescue in the other fields.
"We targeted the pastures that supported mares in the last third of gestation," Henning said. "It lent itself to a narrow range of options and a focused response."
Richardson and other Mill Ridge personnel have been pleased with the results.
"It is a complete 180 from last year," Richardson said. "This year, we lost no mares or foals. The pasture renovations are what turned our foaling season around."
Richardson said the farm plans to renovate one field each year until they remove fescue from all the fields through which pregnant mares rotate.
"It's a big investment, especially the pastures we totally killed off and reseeded, but when you compare it to the cost of one trip to the clinic with a mare and foal or the loss of a foal, it's not really very expensive," he said.
Horse farm owners and managers who are interested in learning more about pasture evaluation should start with their county extension agent for basic recommendations and help in taking soil samples. They can get more detailed recommendations and samplings through UK's Horse Pasture Evaluation Program.
---
Crops
Equine
Extension
Livestock