How Do Horses Travel? Researchers Need Your Help!
How Do Horses Travel? Researchers Need Your Help!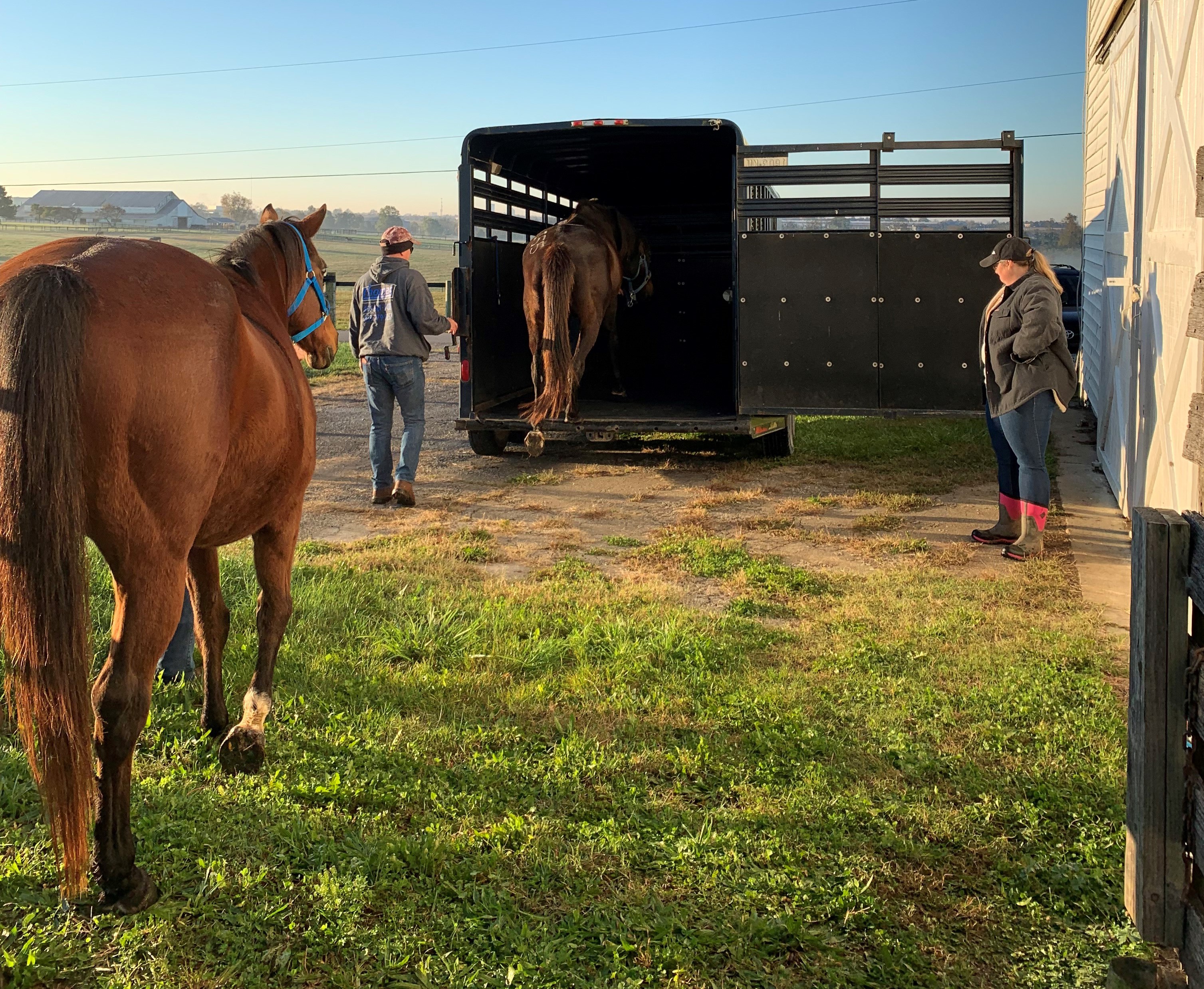 LEXINGTON, Ky.—
When you see a horse trailer heading down the road, do you wonder where it's headed and why? How long its trip will be? Or how the horses inside are managed? Well, you're not alone. Researchers have the same questions, and they're seeking horse owner input to determine the answers. 
While it's well-known that horses are transported in trailers on roads regularly, the specific reasons for travel and how horses are managed during transport aren't well-documented. To fill in some of those knowledge gaps, researchers from the University of Kentucky Gluck Equine Research Center are conducting a survey to gain a better understanding of the purposes and ways horses are transported, as well as different journey lengths and management practices involved in transporting horses on U.S. roads.  
With the information gathered, they hope to conduct further research on and improve management recommendations for horses traveling in the United States. 
This survey is coordinated by Erica Jacquay, graduate student and MARS Equestrian™ scholar at the Gluck Center, whose research focuses on equine transportation. Jacquay works under and is conducting the study with Amanda Adams, MARS Equestrian™ Fellow, UK associate professor and specialist in equine immunology. 
"We are interested in understanding how transportation affects horses of different ages, breeds and health status so that we can ultimately find ways to better support horse health. This survey will provide valuable information and therefore we encourage all horse owners to get involved and be part of our project," said Dan Howe, interim chair of the UK's Department of Veterinary Science and interim director of the Gluck Center.  
"As someone who has regularly transported horses, I believe that the information we learn from this survey will highlight similarities and differences in why and how horses are transported across the U.S.," Jacquay said.  
The survey is open until April 1 and can be found online at https://uky.az1.qualtrics.com/jfe/form/SV_bK5B8c5CJIgwqAC. Participants must be at least 18 years old and own, lease or be in the full care of at least one horse or pony that resides in the U.S. and has been transported at least once in the past 12 months. The survey takes approximately 15-20 minutes to complete, and participants can choose to enter a drawing to win an Ethel M® Chocolates prize basket courtesy of MARS Equestrian™. 
"We are quite excited about this survey and need the equine industry's feedback," Adams said. "This information is important in helping us understand more about transportation of horses, which will then help us ask relevant questions that may lead to new answers relating to how we transport horses and support their health along the way. We are thrilled about continuing our collaboration with Dr. Pat Harris from MARS Horsecare and Dr. Bridgett McIntosh from MARS Equestrian." 
The study is also being conducted in collaboration with Jill Stowe, professor of agricultural economics at UK. 
About the Gluck Center 
The mission of the Gluck Center is scientific discovery, education and dissemination of knowledge for the benefit of the health and well-being of horses. Gluck Center faculty conduct equine research in seven targeted areas: genetics and genomics, immunology, infectious diseases, musculoskeletal science, parasitology, pharmacology, therapeutics and toxicology and reproductive health. The Gluck Equine Research Center, a UK Ag Equine Program, is part of the Department of Veterinary Science in the College of Agriculture, Food and Environment at the University of Kentucky.  
About MARS Equestrian™ 
MARS Equestrian™ Sponsorship, funded by Mars, Incorporated is the link between our iconic brands and the equestrian community. For generations, Mars has celebrated a rich equestrian heritage, and through purposeful partnerships, MARS Equestrian is committed to the sport and building an enduring legacy. From world-class competitions across all equestrian disciplines, to stewarding the power of horses on society and sustainability, the MARS Equestrian Brand is dedicated to our purpose to improve the lives of horses, pets, and the people who love them. For more information please visit www.marsequestrian.com and join us @marsequestrian.  
About Waltham Petcare Science Institute 
The Waltham Petcare Science Institute is Mars Petcare's pet research center. Our work focuses on the nutritional and behavioral needs of pets, as well as preventive health. We use this knowledge to support development of innovative products and services, advancing science to deliver our Purpose: A BETTER WORLD FOR PETS™. The Waltham™ Equine Studies Group, which is headed by Professor Pat Harris, MA, PhD, VetMB, DipECVCN, MRCVS, is dedicated to advancing the science of horse nutrition and provides the scientific support for Mars Horsecare globally including the BUCKEYE™ Nutrition, SPILLERS™, and WINERGY™ brands. By collaborating with key research institutes and universities around the world its work remains at the forefront of equine nutritional science. 
---
Equine