Isaac could impact Kentucky
Isaac could impact Kentucky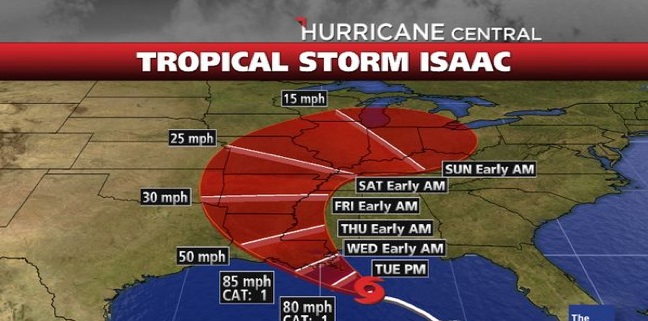 LEXINGTON, Ky.—
With Tropical Storm Isaac still churning in the Gulf of Mexico, it's hard to predict exactly what path the storm will take as it moves north. University of Kentucky agricultural meteorologist Tom Priddy said one thing is for sure—a large part of the Bluegrass state will most likely see significant moisture from the storm.
"As the remnants of Isaac move closer to the area later in the week thunderstorms producing torrential rain and gusty winds will be possible," he said. "This could provide so much rain that flooding and flash flooding could become a problem."
Priddy said some impacts could include livestock in low-lying areas and crops that are in various stages of harvest.
"Anytime producers can know in advance of potential flooding conditions, it gives them a chance to prepare their animals," said Bob Coleman, UK College of Agriculture equine specialist. "It would be wise to use these couple days to move livestock in low-lying areas to higher ground as a precaution. It's also a good time to make sure you have enough feed supplies so that animals do not get cut off due to unexpected flooding."
Because of the extreme drought conditions this year, the state's already damaged corn crop is going to be especially vulnerable to the effects of Isaac. As of Aug. 26, the Kentucky Weekly Crop and Weather Report showed only 25 percent of the state's crop had been harvested. The report also listed more than 80 percent of the crop as poor to very poor.
"For the most part, we know that root and stalk strength of this corn crop are weak and at high risk of blowing over with strong winds and rain," said Chad Lee, UK grain crops specialist. "The only thing producers can do is continue to harvest. If possible, they should harvest fields with the highest yield potential first."
Priddy said farmers who have recently cut hay, should use the time to get the crop off the ground before the rain begins to minimize yields.
"The exact locations of any of these events are highly dependent upon the eventual track of Isaac," Priddy said. "So, be alert for updates over the next few days especially if your travels this holiday weekend include portions of the Mississippi and Ohio valleys. The best chance for storms and heavy rain will be late Friday through Monday."
---
Crops
Equine
Extension
Livestock
Weather