Jackson named chair of UK Department of Retailing and Tourism Management
Jackson named chair of UK Department of Retailing and Tourism Management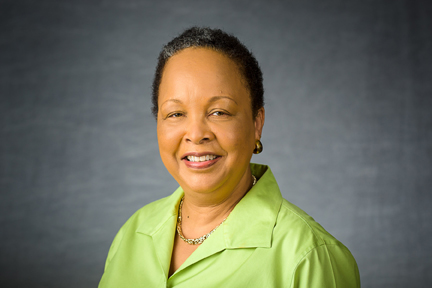 LEXINGTON, Ky.—
A University of Kentucky professor who works to make Kentucky's rural economies stronger was recently named the chair of the Department of Retailing and Tourism Management in the College of Agriculture, Food and Environment.
Vanessa Jackson joined the department, formerly Merchandising, Apparel and Textiles, in 1998 after serving a brief time as a lecturer at South Carolina State University. While at UK, her research, teaching and extension efforts have focused on rural retail development. She's developed teaching models and curriculum that allow extension agents, UK students and small business owners to work together to benefit the local economies of Kentucky's small towns.
In addition to her work with rural communities, Jackson has served as the department's director of undergraduate studies since 2009.
"I am pleased that Vanessa Jackson stepped forward to accept this important position," said Scott Smith, dean of the college. "She was one of the leaders in the reorganization of her new department, and she helped to develop a plan and a vision that will make it an increasingly valuable part of our College of Agriculture, Food and Environment."
As chair, Jackson hopes to help the department's faculty and students to continue to strive for excellence.
"One of my goals is to nurture the faculty to achieve their goals and the goals of the department, so they in turn can give the students the skills they need to be successful in their future endeavors," she said.
A Louisiana native, Jackson received her bachelor's degree from Southern University and A&M College.  She received her master's and doctorate degrees from Michigan State University.
Jackson replaces Kwaku Addo, who served as interim department chair for three years.
---
Extension
Family Consumer Sciences