James E. Pepper names UK Distillation, Wine and Brewing Studies grad head distiller
James E. Pepper names UK Distillation, Wine and Brewing Studies grad head distiller

LEXINGTON, Ky.—
When Cody Giles began his studies at the University of Kentucky in 2013, he said he was just going through the motions. But something clicked when he discovered the Distillation, Wine and Brewing Studies program. As a result of his hard work, Giles recently earned the head distiller position at Lexington's James E. Pepper Distillery.
"I wasn't really sure what I was going to do with my chemical engineering major," said Giles, a native of Adair County. "But I started taking classes with Dr. Seth DeBolt and Jeff Wheeler, and I ended up working at the UK Horticulture Research Farm's vineyard and I started thinking about the distilling world, too. I thought it would be a cool career path and Dr. DeBolt helped me make contacts in the industry."
Seth DeBolt is the director of the UK James B. Beam Institute for Kentucky Spirits and a professor in the UK Department of Horticulture in the UK College of Agriculture, Food and Environment. He said Giles found his passion and interest himself and used the Distillation, Wine and Brewing Studies program as a canvas to create a career path where he could build on that passion.
"This is what we want to keep building in the program," DeBolt said. "He's worked really hard to learn every aspect of this industry. We want him to be a role model for the next generation. This kind of example stretches across all sorts of jobs in the spirits industry."
Giles has been working at James E. Pepper Distillery, DSP-KY-5, since it recommenced distillation at the historic property in 2017. He started immediately after graduation and learned every facet of the operation. DSP refers to federal distillery permits, and the number has historical meaning—James E. Pepper was the fifth distillery in Kentucky to receive a permit.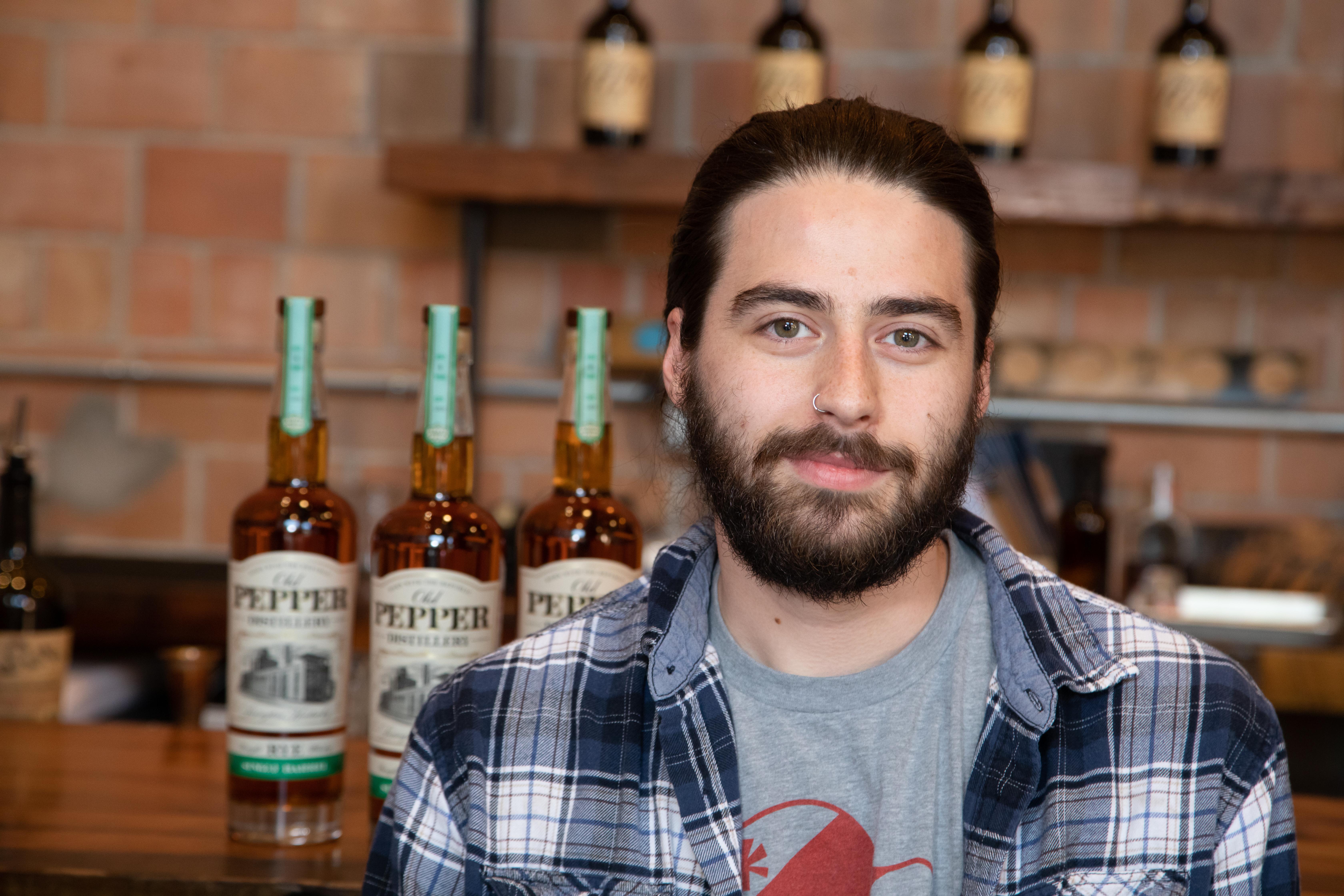 "I think everyone wants to be part of a really awesome story," he said of working for Pepper. "Being part of something with a real, authentic history and authentic story definitely helps me put myself behind the product and the brand."
The storied brand began in 1780, during the American Revolution, and along with the distillery in Lexington, was in operation until 1967. The brand and distillery went through various ownership changes, and the current distillery sat abandoned for more than 50 years before Amir Peay revived the brand and worked with partners in Lexington to rebuild the distillery. Peay has always been passionate about whiskey and American history. He discovered the lost legacy of the Pepper brand and distillery and became intrigued with the story and the project to relaunch, in his words, "a piece of Americana."
"As soon as we began to put together a plan to rebuild the historic distillery here, I knew I wanted to work with the community and with the University (of Kentucky)," Peay said. "I connected with Dr. DeBolt and we began to talk about ideas and he began to visit the distillery and bring students here when it was still a construction site. As we grew and developed, we continued to collaborate and hire students as interns. It's been a really great relationship."
Peay said he hired Giles when the distillery was nearing the end of construction.
"He was here for the day we filled that very first barrel," Peay said. "He was a talent right out of school and showed a real dedication and desire to work in the industry. Since then he has developed into a great distiller and leader, and I am very excited to continue working with him in his new role."
DeBolt said partners like Peay and James E. Pepper Distillery are what make the program such a success.
"They've really looked to support the students as they come in as interns," DeBolt said. "Cody worked under head distiller Aaron Schorch at Pepper. He was a mentor and a teacher. That really supports this community and Kentucky as well. It gets the next generation thinking about bringing in interns and teaching them; even if they don't stay in that distillery, they can teach them to be very valuable in the industry going forward."
For more information about the Beam Institute and the Distillation, Wine and Brewing Studies program, visit http://beaminstitute.ca.uky.edu.  
---
Beam Institute