Jill Stowe named UK Ag Equine Programs director
Jill Stowe named UK Ag Equine Programs director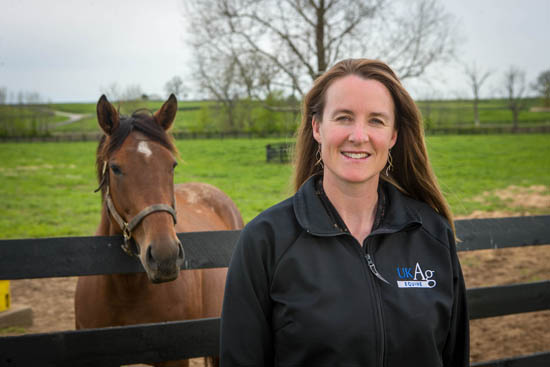 LEXINGTON, Ky.—
Jill Stowe has been named director of University of Kentucky Ag Equine Programs and Dickson Professor of Equine Science and Management beginning May 1. Stowe, an associate professor within the College of Agriculture's Department of Agricultural Economics, follows Ed Squires as the leader of the multidisciplinary equine program that serves as a gateway to all equine activities in the college.
Since her arrival at UK in 2008, Stowe has taught in the recently established and rapidly growing equine undergraduate degree program and conducted equine economic research. She led the 2012 Kentucky Equine Survey, the first comprehensive equine industry study done in Kentucky since 1977, which was implemented in partnership with dozens of organizational partners. The project inventoried the state's equine industry and is in the final stages of determining an economic impact of the industry to the state.  Stowe also serves as faculty advisor for UK's Dressage and Eventing Team and has served as part of the faculty leadership for UK Ag Equine Programs for the past several years.
"It is a privilege to have the opportunity to serve this program, which has already given so much to me both professionally and personally," Stowe said. "I am excited to be able to work alongside others on the Equine Programs team to help the program continue to reach its potential."
"Having a leader such as Jill Stowe, a horsewoman and a scholar of big picture issues, such as the Kentucky Equine Survey, represents another milestone in the college's efforts to dedicate more programs to the horse," said Nancy Cox, associate dean for research in UK's College of Agriculture, Kentucky Agricultural Experiment Station director and administrative leader for UK Ag Equine Programs. "Dean Smith's original call to enhance programs for our signature industry will realize an even greater potential through Jill's leadership."
Prior to joining UK, Stowe was an assistant professor in The Fuqua School of Business at Duke University. She earned her bachelor's degree in mathematics, summa cum laude, from Texas Tech University and her doctorate in economics from Texas A&M University. Her research areas of interest include equine markets, incentives in individual decision making, decision making under risk and ambiguity and sports economics.
"I have a number of goals that I hope to help the UK Ag Equine Programs achieve during the course of my term, and many of them focus on leveraging our rich equine opportunities, not only in this area, but also abroad. Ultimately, doing so will help UK's equine program achieve excellence, both nationally and internationally," Stowe said.
Stowe has been actively involved in the horse industry since she was a child, starting with local Quarter Horse show circuits, 4-H, Pony Clubs and later hunter/jumper, combined training and dressage. She currently competes in dressage shows and horse trials with her off-the-track Thoroughbred and is on the board of directors for the Lexington-based Masterson Equestrian Trust.
"The appointment of Dr. Stowe as director of Ag Equine Programs and Dickson Professor of Equine Science and Management indicates the tremendous diversity, and highest levels of expertise, available to the horse industry from the University of Kentucky," said Norm Luba, executive director of the North American Equine Ranching Information Council and chair of the College of Agriculture's UK Equine Advisory Committee.
---
Equine