Job Club announces summer meeting schedule, provides valuable networking and advice
Job Club announces summer meeting schedule, provides valuable networking and advice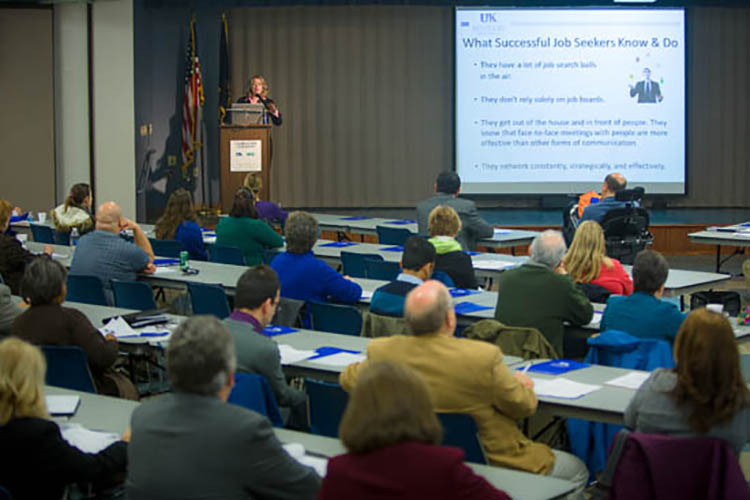 LEXINGTON, Ky.—
Finding yourself unemployed after years in the same company can sometimes be demoralizing. Central Kentucky Job Club provides a positive environment for motivated job seekers to meet, network, share and learn.
The University of Kentucky Alumni Association, UK Cooperative Extension Service's Fayette County office, and UK Human Resources Staff Career Development partner in the program, which is free and open to the public. Job Club meets the second and fourth Tuesday of each month from 9 to 10:15 a.m. in the Fayette County Extension office, 114 Harry Sykes Way (formerly Red Mile Place) in Lexington.
With sessions that focus on successful job search strategies, overcoming obstacles, resume writing, networking strategies, making contacts and gaining perspective through volunteering, interview skills, financial management skills and personal branding, the club welcomes determined job seekers who are currently out of work, underemployed or hoping to make a career transition.
Job Club's summer meeting schedule includes:
June 12: Résumés : The Essential Career Document. Presented by Ray Clere, director of the UK James W. Stuckert Career Center. A high-quality résumé remains an essential marketing and networking tool for job seekers. This session will provide topical information about formatting, content, presentation and general "rules of the road" for developing a resume that will impact and advance one's career goals.
June 26: Build Your Brand and Set Yourself Up for Success with LinkedIn. Presented by Ashley Gei and Marc Williams, career advisors at the UK Stuckert Career Center. Learn five LinkedIn steps to connect to multiple opportunities in the world of work.
July 10: Interview Strategies from the Other Side of the Table. Presented by Frank Patton, vice president of Foresters Financial Services. Patton will share strategies for making a good impression in a job interview.
July 24: Motivated Skills Card Sort. Presented by Caroline Francis, UK Alumni Career Services, and Diane Kohler, UK Human Resources Career Development. Francis and Kohler will introduce participants to a fun and interactive tool that is a quick way to identify skills that are central to personal and career satisfaction and success. The outcome can be an aid to recognizing transferable skills and focusing resume and job search efforts.
Aug. 14: Job Searching Over 50: Challenges and Strategies. Presented by Kohler. This session will examine both real and perceived challenges faced by job seekers over 50. Drawing from labor market data, human resources trends, recruiters' perspectives and the speaker's professional and personal experiences, participants will identify and discuss their concerns about age as it relates to finding new employment and learn about useful resources to help overcome challenges.
Aug. 28: Job Search Tips from HR Professionals and Recruiters. Participants will learn job search tips and strategies directly from those involved in the recruiting and hiring process, as well as getting job search, application and hiring questions answered.
Preregistration is not required. Business attire is encouraged. Recruiters and employers are welcome to attend as well. For more information, call the UK Alumni Association at 859-257-8905, the Fayette County Extension office at 859-257-5582 or the UK Staff Career Development Office at 859-257-9416. Additional information can be viewed at http://www.ukalumni.net/jobclub.
The UK Cooperative Extension Service is part of the College of Agriculture, Food and Environment. With its land-grant partner, Kentucky State University, Cooperative Extension takes the university to the people in their local communities, addressing issues of importance to all Kentuckians.
---
Events
Extension