Kentucky 4-H Emerald Recipients attend national conference, learn about U.S. government
Kentucky 4-H Emerald Recipients attend national conference, learn about U.S. government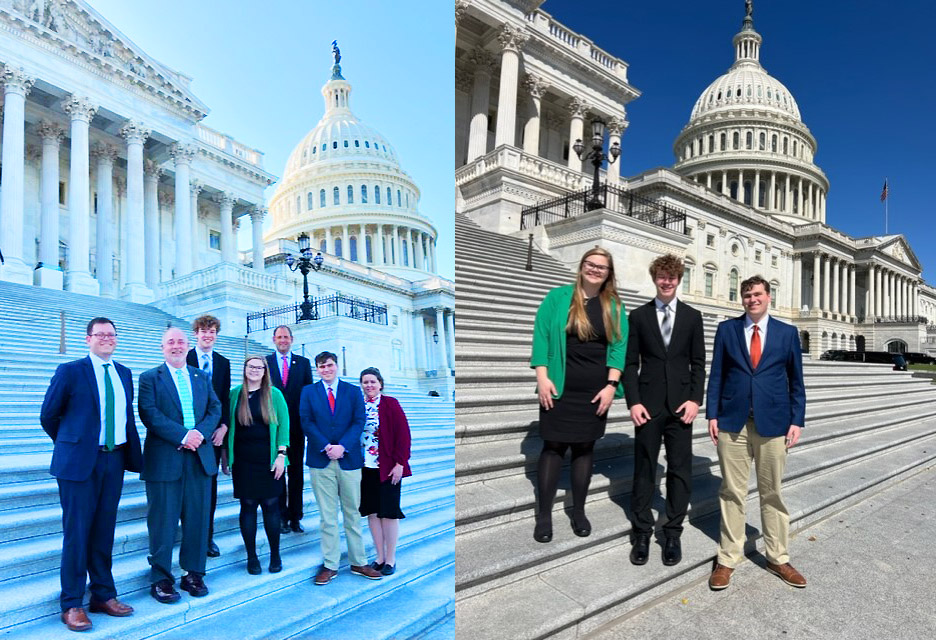 LEXINGTON, Ky., —
Three Kentucky 4-H members, Luke Carter, Sidney Sowder, and Isaac Hosay, recently traveled to Washington, D.C. to meet with their legislators and attend the National 4-H Conference.
The students, who were all named Emerald Recipients in 2022, were accompanied by UK Cooperative Extension special projects coordinator Chuck Stamper and Hart County extension agent for 4-H Youth Development Julia Wilson.
"4-H Emerald is the highest level of recognition in the program and shows years of experience in civic engagement, leadership and communications," Stamper said. "Very few young people get an opportunity to visit their senators and representatives to learn about national issues and how the representatives are addressing them."
All Emerald award recipients were high school seniors when they were honored and college freshmen during the National Conference. UK College of Agriculture, Food and Environment freshman Luke Carter from Hart County was on the trip. He said the experience was one of the most rewarding things he's experienced.
"This was my third trip to D.C. and it proved that there is always something to see," he said. "The night tour of our nation's Capital was vibrant and exciting. My favorite part of the trip was not the location, but the experience and knowledge gained. I was involved in a roundtable session where I gained extensive knowledge about nutrition and healthy living in the United States before the group presents it to the USDA."
Carter plans to pursue a career in healthcare after college. He said the opportunity to expand his knowledge, make connections and understand the importance of government in healthcare was invaluable.
"I am even more ecstatic to take this with me for my application to an accredited physician assistant program and apply this knowledge within my career," he said. "The Kentucky 4-H program has provided me with so many opportunities that have prepared me to take on whatever my future entails."
UK CAFE's director of government relations Chris Crumrine joined the group in D.C.
"Chris was very helpful teaching the 4-Hers how to communicate with their legislators and get the most out of the whole experience," Stamper said.
Sowder is a freshman at Northern Kentucky University from Harrison County. Hosay is a freshman at Western Kentucky University from Warren County.
As part of the Emerald Recipient requirements, each student must make a presentation about their experience.
The National 4-H Conference began in 1927 and the U.S. Department of Agriculture states it still serves as its flagship youth development opportunity. It's a future-focused event that aims to develop the next generation of leaders.