Some people may call Bonnie Drake the gourd lady, and she doesn't mind a bit. Drake grows countless varieties of gourds on her farm in Nelson county to use in arts and crafts projects, especially around the holidays.
There are gourds that look like pumpkins, others that look like apples and still others that can easily be seen as ghosts, Santas, and almost anything imaginable.
Drake cultivates, cures, sands and paints the gourds. At times, she even carves images into their hard skins with special tools and wood burners. Her creations are popular at craft and art shows around the Commonwealth.
"I bring the gourds in from the field in the fall and set them on wood pallets outside to cure until February or March," Drake said. "If you grow them right, they are going to cure right, no matter what. When they are ready, I bring them in and clean them, usually with aluminum or copper pads and then stain them with natural products like tea and coffee. You can also use leather dye, shoe polish or a lot of other things."
Drake believes that anyone can be creative with gourds. You don't even have to be an artist, she said. However, Drake has been accepted into a select group of Kentucky crafters and is entitled to attach a "Kentucky Crafted" tag to all her products that assures the buyer the artist has a reputation for high-quality products.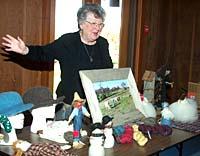 Norma Jean Campbell raises a small flock of sheep in Washington County. She shears the sheep to get the wool she uses in her craft projects. Dolls, angels, Christmas ornaments, blankets, and hand towels are a few of the items she makes with her homespun, woven and dyed wool.
"I wash the wool, then spin yarn and dye it with natural things like bloodroot, daffodils, and sumac berries," she said. "I make angels with felted wool. Their wings are milkweed pods. To felt the wool, first I dye my fleece then I make felt by putting rubbing layers of wool together."
Campbell said she does everything the old fashioned way but admits to finding as many shortcuts as she can.
Drake and Campbell were featured speakers at the November Farm to Table Connection, hosted by the University of Kentucky Cooperative Extension Service and the Kentucky Department of Agriculture, in Elizabethtown. The event focuses on getting Kentucky agricultural products from the farm to the table in efficient and creative ways.
"When I go out in my garden, I feel like a kid in a candy store," Drake said. "I love being able to use what I grow out there to be creative, especially around the holidays."
Carolyn Goodman, family and consumer science Extension agent in Nelson County, said Drake has a good combination of business know-how and personality to be successful in her home enterprise.
"Bonnie has a business degree and she has been through Extension as an Extension homemaker in the past," Goodman recalled. "She's very talented and a great example in our county of how to succeed with a home business."
FCS Extension agent in Washington County, Kay Kennedy, had similar things to say about Campbell.
"We really rely on Norma Jean; she's a great resource for Washington County," Kennedy said. "We make full use of her. She does tours on her farm to show people exactly what she does. I think the new buzz word for that is agri-entertaining."
Both Drake and Campbell have a knack for entertaining and communicating, which both Extension agents said are invaluable skills for succeeding in any business.
For more information on how to use Kentucky agricultural products in arts and crafts projects, contact your county Extension office.