Kentucky Celebrates Small Business Ceremony honors work of entrepreneurs
Kentucky Celebrates Small Business Ceremony honors work of entrepreneurs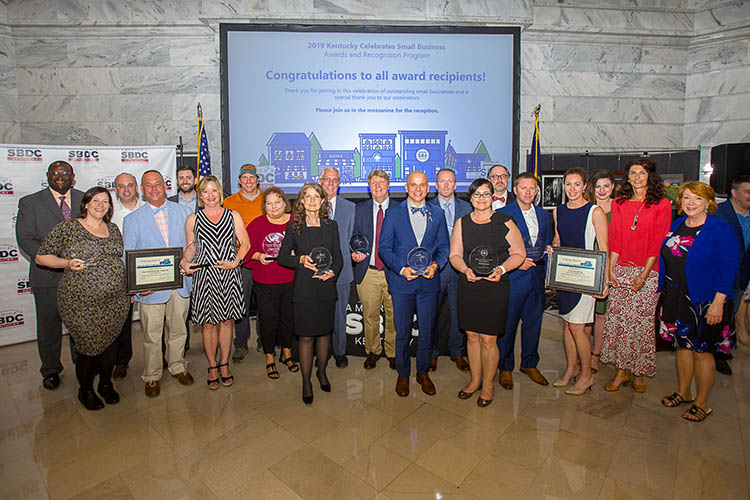 Frankfort, Ky., – Fifteen small businesses from across the commonwealth received recognition for their exceptional business practices and success at the 11th annual Kentucky Celebrates Small Business Awards Ceremony.
Lt. Gov. Jenean Hampton, Kentucky Small Business Development Center state director Kristina Joyce, Small Business Administration acting district director, Robert Coffey and small-business supporters from across the state recently gathered in the Capitol rotunda to honor the small-business owners who help Kentucky's economy and communities grow.
The ceremony is a joint celebration of the U.S. Small Business Administration award winners and the Kentucky Small Business Development Center's Pacesetter award winners. Both awards celebrate the accomplishments, hard work and courage of Kentucky entrepreneurs. For the first time, the Pacesetter awards honored startup businesses alongside the traditional second-stage companies commonly showcased at the event.
The honorees are leaders in their fields. Kentucky Pacesetter award-winner Sara Bradley, owns freight house and was the runner-up in the latest season of the Bravo television show "Top Chef." American Metal Works has grown their own reputation as leaders in the post-coal world of Eastern Kentucky, as they create new job opportunities for former coal miners. Two of the Kentucky Pacesetters were double recipients this year. J-Mack BBQ co-owners Jay and Michelle Tapscott and Running Soles owner Will Rivera also won SBA awards. All Pacesetter awardees are Kentucky SBDC clients.
"The small businesses we are celebrating today are the backbone of Kentucky's economy. We are happy for the opportunity to honor them for their commitment to the best business practices, our economy and their communities," Joyce said during the ceremony.
As part of their Pacesetter award, winners received a promotional video. View all Pacesetter winner promotional videos on the Kentucky SBDC YouTube page, http://www.youtube.com/kysmallbiz.
2019 Pacesetter honorees include:
Startup Business Pacesetters
Achievements Through Actions, Somerset
Fedders Construction, Newport
Nymbl Systems, Lexington
Paws Town LLC, Owensboro
Tree Of The Field, Paint Lick
Traditional Business Pacesetters
American Metal Works, Paintsville
freight house, Paducah
J-Mack BBQ LLC, Gilbertsville
Running Soles, LLC, Elizabethtown
Straight Cut Tree Services LLC, Corbin
U.S. SBA award winners include:
Kentucky Small-Business Person of the Year: Paul Isenberg, Bowling Green
Kentucky Financial Services Advocate of the Year – SBA Bank Lender: Barry Frazier, Mount Sterling
Kentucky Financial Services Advocate of the Year – SBA Microlender: Regina Becknell, Paintsville
Rural Small-Business Person of the Year: Michelle Tapscott, Gilbertsville
Veteran-Owned Small Business of the Year: Will Rivera, Elizabethtown
The Kentucky Small Business Development Center, part of the University of Kentucky College of Agriculture, Food and Environment, is a network of 12 offices located throughout the state. The center helps existing and startup businesses succeed by offering high quality, in-depth and hands-on services. Kentucky SBDC is a partner program with the U.S. Small Business Administration. For more information on Kentucky SBDC services visit http://www.ksbdc.org/.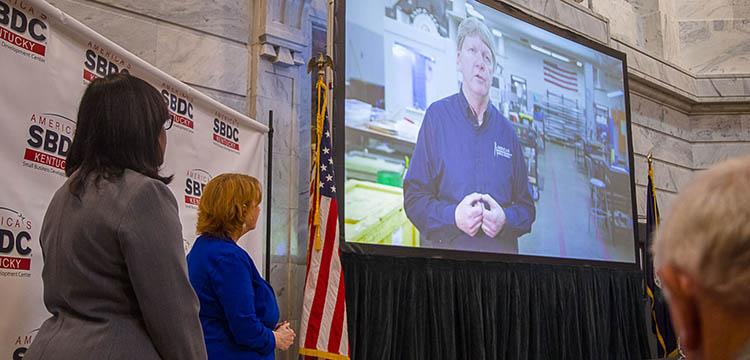 ---
Awards
Events