Kentucky Farm Income In 2002 May Hit 14-Year Low; Likely To Rebound In 2003
Kentucky Farm Income In 2002 May Hit 14-Year Low; Likely To Rebound In 2003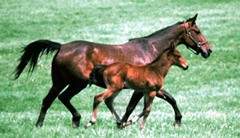 LOUISVILLE, Ky.—
Low prices, weather and disease all contributed to making 2002 a dismal year on most Kentucky farms.
Total farm cash receipts could dip to $3.1 billion, the lowest since 1995, according to University of Kentucky College of Agriculture economists. In net farm receipts, much less is staying in farmers' pockets in 2002 with profits potentially hitting a 14-year low.
"2002 was obviously a rugged year," said Larry Jones, UK agricultural economist. "We think 2003 will give us a pick up, unfortunately it will only get us back to where we've been as an average for the past 10 years. But compared to where we've been this year, I think we are in store for a rather significant improvement."
The decline in gross cash receipts in 2002 was led by losses in the equine and tobacco sectors, he said. Mare Reproductive Loss Syndrome accounted for a significant part of the $175 million decline in equine cash receipts.
Tobacco receipts are projected to be down $86 million due to lower quotas and less than favorable growing and curing conditions. Other commodities, including livestock, dairy, and grains also brought in fewer dollars than in 2001.
Poultry, which likely will be up slightly in sales, was an exception. Poultry sales in 2002 accounted for $617 million, making it the second largest contributor to Kentucky farm cash receipts behind the equine industry.
An overview of 2002 and a look ahead to 2003 was presented Dec. 12 by members of the UK College of Agriculture's agricultural economics department during the Kentucky Farm Bureau Federation's annual meeting in Louisville.
Expenses in 2002 remained relatively constant, but net income will decline due to less gross receipts and lower government payments, Jones said.
"We may have to go back to 1988 to find such a low number," he said. "The bigger issue as we see it is liquidity or cash flow, and we think that's been a major issue in 2002. If we get a little bit of improvement in commodity prices and weather, we think this will get better. The good news is that we have strong balance sheets. When you look at the aggregate – assets, liabilities and net worth, Kentucky looks very strong."           
In 2003, farm cash receipts are expected to rebound about 10 percent. Equine sales are expected to rebound from the effects of MLRS and, along with cattle sales, provide most of the increase in cash receipts. Other commodities also will see improved pricing in the coming year.
A trend that has been emerging since 1996 continues with more receipts the result of livestock sales and fewer from crop sales, whereas it had been about a 50-50 split. This trend is largely explained by the loss of tobacco and the growth of the poultry and equine industries, Jones said.