Kentucky Farmer wins National Forage Spokesperson Award
Kentucky Farmer wins National Forage Spokesperson Award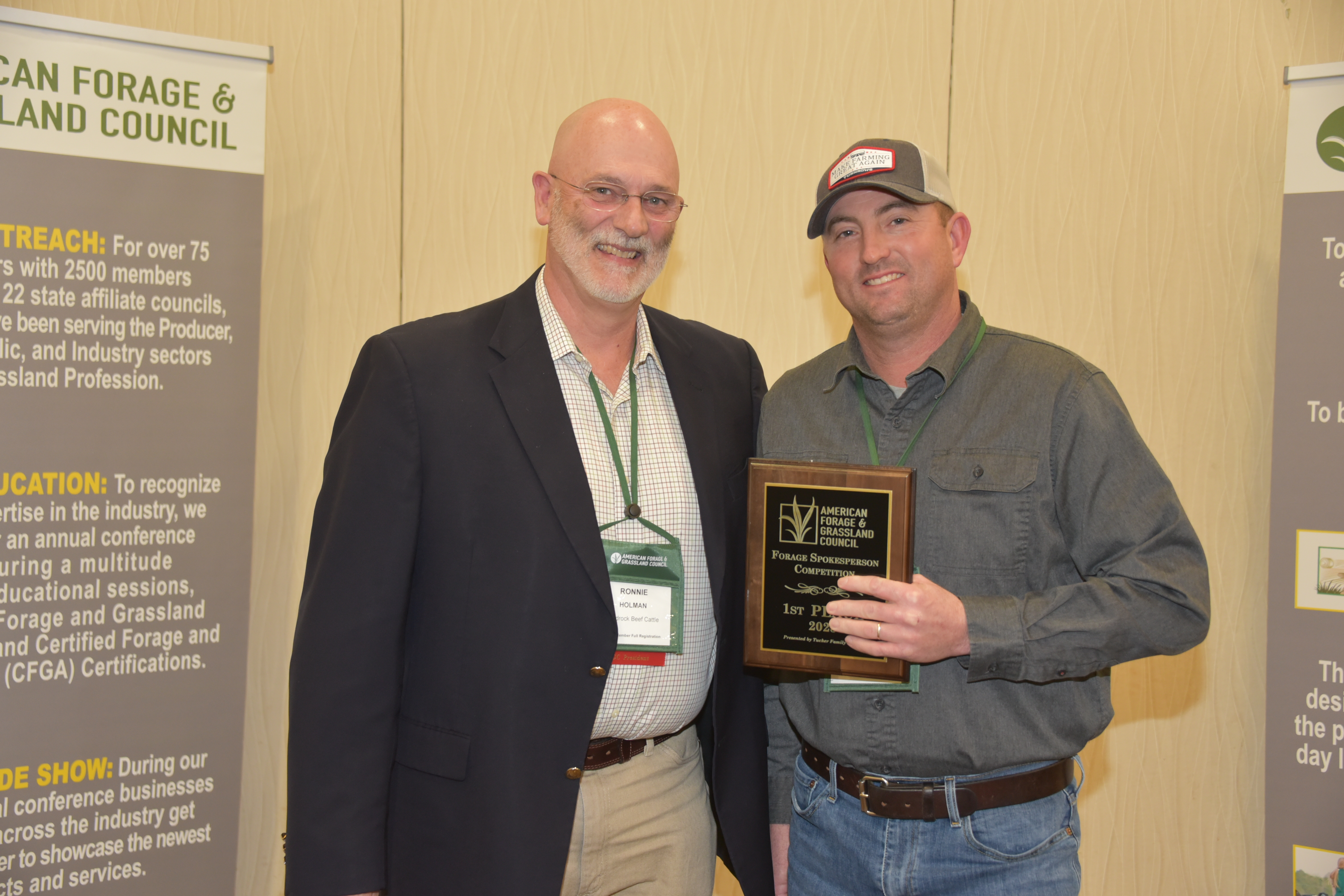 Lexington, Ky.—
Bracken County farmer Bart Hamilton recently won the National Forage Spokesperson Contest at the American Forage and Grassland Council's Annual Meeting in Winton-Salem, North Carolina. Contestants from across the nation told their farm's story in 15-minute presentations highlighting their operation's forage utilization, quality and overall forage management.  
State affiliate councils nominate individual farmers to present at the national conference. In October, Hamilton won the Kentucky Forage and Grassland Council's Forage Spokesperson Contest to qualify for the national contest. 
"Bart learned quickly that you cannot manage what you do not measure," said David Appelman, University of Kentucky College of Agriculture, Food and Environment agriculture and natural resources extension agent in Bracken County--Hamilton's home county--who has worked with Hamilton on multiple projects. "I enrolled him in a genetic improvement program with UK Department of Animal and Food Sciences extension professor Les Anderson. In addition to forage management, Bart also focused on improving his genetics, reducing the physical size of his cattle and shortening his calving season. This made it easier for him to manage his forage resources."  
Hamilton has participated in numerous UK programs over the years, including Master Cattleman, Grazing School and Fencing School and collaborated with Anderson on the East Kentucky Integrated Reproductive Management Program.  
Hamilton said his successes and failures along his farming journey and UK programs helped him improve grazing management. When he began his journey, Hamilton said the farm was managing him, not the other way around.  
Together with his family, Hamilton raises beef cattle and Broadleaf Wrapper tobacco in the Berlin community. His presentation is available on the KY Forages YouTube channel. 
For more information on improved forages, visit the UK Forages website at http://forages.ca.uky.edu or a local extension office. 
---
Awards