Kentucky Proud Evenings: books and food to nourish body and soul
Kentucky Proud Evenings: books and food to nourish body and soul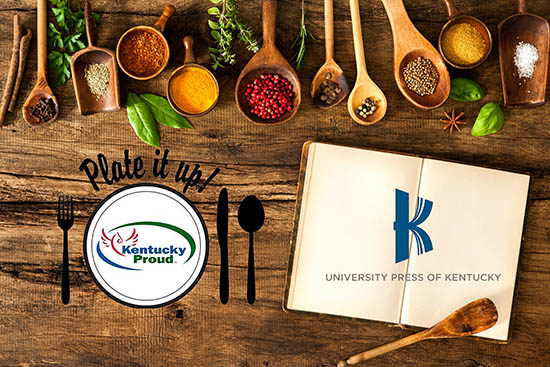 LEXINGTON, Ky.—
The University Press of Kentucky is celebrating its 75th anniversary with company. The Fayette County Cooperative Extension office of the University of Kentucky College of Agriculture, Food and Environment is partnering with the press on Kentucky Proud Evenings, a series of monthly author talks from March through December.
These events will start at 6 p.m., at the Fayette County Extension office, located at 1140 Harry Sykes Way in Lexington. Plate it Up! Kentucky Proud food samples will be available for those attending. Reserve your spot at a talk by calling the office at 859-257-5582. Copies of the book being discussed will be available for sale at the events.
Tuesday, March 27
David J. Bettez, "Kentucky and the Great War: World War I on the Home Front"
Bettez, former director of UK's Office of International Affairs, provides the first comprehensive analysis of the impact of the Great War on Bluegrass society, politics, economy and culture, contextualizing the state's involvement within the national experience.
Thursday, April 26
Tom Kimmerer, "Venerable Trees: History, Biology, and Conservation in the Bluegrass"
Featuring more than 100 color photographs, this beautifully illustrated book, by a former UK faculty member and chief scientist of local nonprofit, presents a natural history and offers guidelines for conserving trees that predate European settlement.
Wednesday, May 16
Randolph Paul Runyon, "The Mentelles: Mary Todd Lincoln, Henry Clay, and the Immigrant Family Who Educated Antebellum Kentucky"
Runyon presents a joint biography of Augustus Waldemar and Charlotte Victoire Mentelle, immigrants from France who settled in Lexington in 1798 and opened a school that attracted students including future first lady, Mary Todd.
Monday, June 25
Robert G. Lawson, "Who Killed Betty Gail Brown? Murder, Mistrial, and Mystery"
Lawson, a defense attorney for the only person ever charged with the crime and UK professor emeritus of law, recounts the famous cold case of 19-year-old Transylvania University student Betty Gail Brown, who on Oct. 27, 1961, was found in her car on the Transy campus strangled to death with her own brassiere.
To find out about more Kentucky Proud Evenings, read more on UKNow.
---
Events
Extension
Family Consumer Sciences