Kentucky Senate recognizes Kentucky Nonprofit Week
Kentucky Senate recognizes Kentucky Nonprofit Week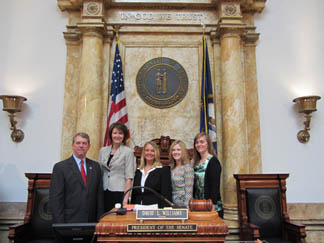 LEXINGTON, Ky.—
LEXINGTON, Ky., (April 12, 2012) – The Kentucky Senate recently passed a resolution honoring the contribution thousands of Kentucky nonprofits make to the state's economy and quality of life and recognizing the third week of April as Kentucky Nonprofit Week.
Introduced by Sen. Dorsey Ridley and co-sponsored by the 30 senators present in the Senate chamber, the resolution celebrates the 10th anniversary of the Kentucky Nonprofit Network, an outreach program of the University of Kentucky College of Agriculture. The network serves as a resource for boards and staffs of the more than 20,000 nonprofit organizations of all types and sizes in the state, as well as an information center on effective nonprofit organizational practices and as an advocate for the nonprofit sector as a whole.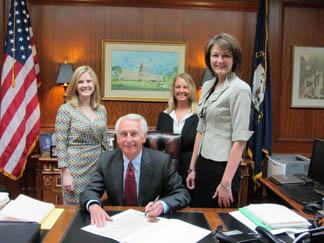 Gov. Steve Beshear's accompanying proclamation also recognized the dedication nonprofit staffs and volunteers show "to upholding the highest standards of community service, committing their time and effort to making a difference in the lives of others."
Nonprofit organizations play a central role in shaping and strengthening communities, employing roughly one in 10 Kentuckians and spending more than $25 billion to meet community needs in 2010.
"Given the challenges facing our communities and the tough days ahead, it is reassuring that our governor and General Assembly recognize that caring for our neighbors in need and improving the quality of life in Kentucky is not possible without the nonprofit community," said Danielle Clore, executive director of the Kentucky Nonprofit Network. "It is my hope that this formal recognition of the nonprofit sector's importance will foster better relationships between nonprofit and government leaders at all levels as they work as equal partners to strengthen our commonwealth."
KNN will relaunch its successful Principles and Practices for Nonprofit Excellence in Kentucky tools during Kentucky Nonprofit Week. The Principles and Practices program promotes the implementation of best practices for transparent and effective management of nonprofit organizations. It offers guidance on all aspects of nonprofit leadership and management, as well as practices that will help Kentucky nonprofits comply with federal and state laws. The guide and accompanying workbook, training and online resources now include an environmental stewardship component.
"Nonprofits have a unique opportunity, regardless of their mission, to engage in practices that care for our environment. An added bonus is these practices often can mean cost savings for the organization," Clore said. "What better way to celebrate our state's nonprofit sector during Kentucky Nonprofit Week than by sharing ideas that are both cost-saving measures and ways to care for our environment better?"
As part of its 10th anniversary celebration, KNN is hosting Nonprofits Going Green events in Louisville, Hopkinsville, Morehead and Lexington during Kentucky Nonprofit Week. The free workshops will provide nonprofits with information on energy efficiency, wise water usage, waste reduction and recycling, as well as offer free giveaways and paper shredding. Partners in the events, which are sponsored by LG&E and Kentucky Utilities, include Bluegrass PRIDE, Eastern Kentucky PRIDE and the Center for Nonprofit Excellence.
Nonprofits Going Green is scheduled in:
·       Louisville, 9 a.m. to noon April 16 at the Kentucky Society of Certified Public Accountants, 1735 Alliant Avenue
·       Hopkinsville, 9 a.m. to noon April 17 at the Hopkinsville Regional Campus of Murray State University, 5305 Ft. Campbell Blvd
·       Morehead, 9:30 a.m. to 12:30 p.m. April 19 at the Morehead Public Library, 175 Beacon Hill Drive
·       Lexington 9 a.m. to 12:30 p.m. April 20 at Locust Trace Agriscience Farm, 3591 Leestown Road
For more information about KNN or to register for the Nonprofits Going Green events, visit http://www.kynonprofits.org. Preregistration is required.
---
Community Development
Environment
Events