Kentucky Tree Farmer of the Year Field Day Oct. 4
Kentucky Tree Farmer of the Year Field Day Oct. 4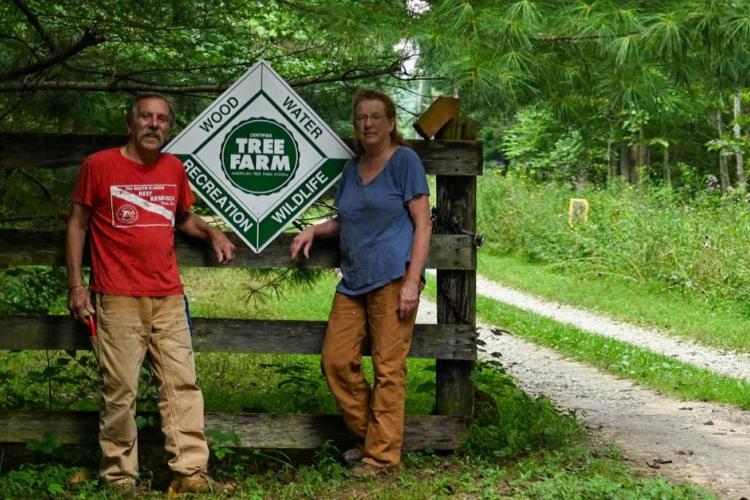 Lexington, Ky—
Phil Traxler and Laurie Yanoshek, Tree Farmer of the Year honorees and owners of Traxler Farms, will give a close-up view of a well-managed tree farm Oct. 4 during the University of Kentucky College of Agriculture, Food and Environment's Kentucky Tree Farmer of the Year Field Day. This free event will consist of a short walking tour of their Lewis County property showcasing their woodland management practices, dry kiln, craftsman's woodshop and creek-side rental cottage.  
"One of the unique things about this farm is that they are very integrated," said Billy Thomas, extension forester with the University of Kentucky Department of Forestry and Natural Resources. "Not only do they work closely with organizations such as the Kentucky Division of Forestry and Lewis County Extension office in managing their woods and farm, but they also harvest their own wood and turn it into products such as furniture and other custom wood products." 
The pair's custom-built, creek-side rental cottage on the property features wood from the farm created by Traxler and Yanoshek. They also offer guided tours of the property for renters interested in learning about woodland stewardship in Kentucky. 
"The creek-side cottage is really unique," Thomas said. "We don't always see things like that with landowners, along with everything else they have done, plus offering guided woodland tours promoting woodland stewardship makes this tree farm really special." 
Thomas said the idea of the award is not just to celebrate Traxler and Yanoshek as the winners, but to inspire others to become good woodland stewards. 
"We want to show people good examples of what tree farmers look like, and through these tours, give others some examples of ways to improve their own properties," he said. "Tree farms in Kentucky are typically not Christmas tree farms as some might think, although some do grow Christmas trees, rather they are most often well-managed natural woodlands with the goal of growing high-quality timber, supporting healthy wildlife populations, providing recreational opportunities, while also protecting water quality." 
The field day will run 1-6:30 p.m. EDT. Registration is required by Sept. 27. To register, email forestry.extension@uky.edu, contact the Lewis County extension office at 606-796-2732 or the UK Forestry extension office at 859-257-7597. 
The field day is a partnership between UK Forestry and Natural Resources extension, the Kentucky Tree Farm Committee, Kentucky Division of Forestry, Lewis County Cooperative extension office, Kentucky Sustainable Forestry Initiative Implementation Committee and the Kentucky Forest Industries Association. 
---
Forestry