Larue County Seventh-Graders Get Dose of Reality
Larue County Seventh-Graders Get Dose of Reality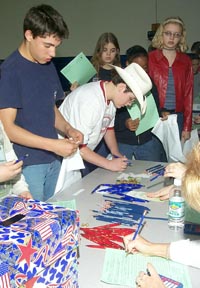 HODGENVILLE, Ky. —
Seventh-graders at Larue County Intermediate School got a dose of how life could be when they "grow up" at a recent Reality Store organized by University of Kentucky Cooperative Extension agents for agriculture and family and consumer sciences.
Reality stores have been a popular exercise in many Kentucky schools. They give students a chance to explore different career options and see how they will make ends meet with the income from that career.
"We want them to get a brief glimpse of reality and get them to start thinking about their career choices," said Robert Hutchins, Larue County Extension agent for 4-H and youth development.
Reality Store coordinators and volunteers begin working with teachers each fall to plan the exercise and to decide how to help students determine wise career choices. In the spring, students do career assessment exercises in class and the teacher combines that with the student's grade point average to assign a career they will use in the Reality Store. Hutchins also emphasized that students are given a realistic salary for the career they choose.
Each student also is assigned a number of children. Hutchins said maybe the exercise will help the students think realistically about how many children they will have in real life.
"Some of them who are assigned as many as three children here wind up with a deficit at the end of the program," he said. "They realize quickly they will have to have some kind of income to cover those expenses and if their choice is to be a clerk making $15,000 a year, they know they won't be making enough and they may have to reevaluate their career choice."
Larue County Extension Agent for Family and Consumer Sciences Theresa Howard agreed that students may not be aware how much children cost before they go through the Reality Store.
"Students usually learn immediately how expensive it is to have children and that they have to include more than one person's expenses in their monthly budget," she said.
As students progressed from booth to booth in the Reality Store, they set up bank accounts, purchased homes and obtained insurance. They also had to buy groceries, furniture, vehicles and set aside money for entertainment. They even learned realistic amounts they should save to have a modest vacation.
The most shocking realization for some participants were the child care costs. Some students picked up second and third jobs to subsidize the costs of raising their children. Chastity Marcum was assigned two children in the exercise.
"I got into debt once because of those children," she said. "I hoped they were safe (in childcare). But if I become a physical therapist, they say I could make $40 an hour and that would help."
Howard said more than 50 community volunteers help with the Reality Store each year. "We have everyone from our county judge executive to our sheriff, as well as many school administrators and local business representatives," she said. "They think this is the kind of activity students need. They need more reality-based activities like this to show them how life actually works after school."