Longest Day of Play makes a splash in Somerset
Longest Day of Play makes a splash in Somerset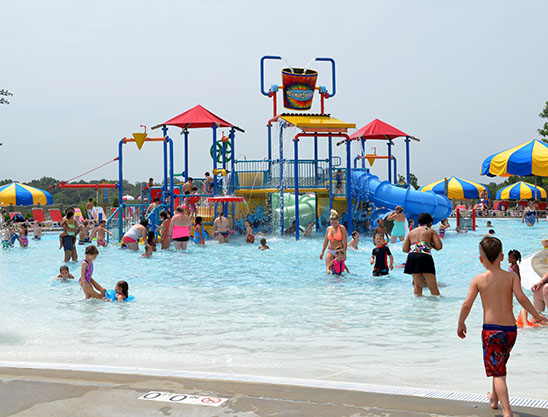 SOMERSET, Ky.—
Outside of SomerSplash Waterpark, families from across the region came early and stayed all day to welcome summer and to celebrate The Longest Day of Play.
The event promotes physical activity and healthy living and coincides with the longest day of the year, which is the first day of summer. This year it was held on June 23.  The event was hosted by a group of community partners, including the University of Kentucky Cooperative Extension Service, Lake Cumberland Health Department, Pulaski County Schools, Eastern Kentucky Personal Responsibility in a Desirable Environment, and the city of Somerset.
"We have a Working on Wellness group in the community, and we wanted an event to give children nutrition, physical activity and help our new waterpark grow, so we started the program five years ago," said Edith Lovett, the Pulaski County family and consumer sciences extension agent.
Hundreds of young people under 18 had the opportunity to experience the city's waterpark for free on this day. While the event is only advertised locally, word quickly spread throughout the region with people coming from as far away as Madison County and Lexington for the 2015 event.
Not only do children get a free pass to the city's waterpark, but they also get a healthy lunch, a book to read for the summer and sunscreen.
The event has been extremely popular. Each year, Stephen Sims, manager of the waterpark, receives calls from people inquiring about the event from the time the park opens for the season until the event occurs.
"A lot of times the people who are here today wouldn't otherwise get to come, so it's an opportunity for us to give back to the community," he said. "It's a way to get kids out and let them be active and not just simply stay at the house all summer long."
Lovett said each year a large crowd is already waiting when organizers arrive at the park to set up the morning of the event. The free passes are usually gone within an hour.
Roberta Jackson makes it an annual event for the youth group from Altamont Baptist Church in Laurel County. She uses the opportunity as a reward for the children who range in age from 6 to 16.
"We try to get here at the beginning so we're the first ones, and we try to shut the place down," she said.
---
Events
Extension
Family Consumer Sciences