Mcconnell Announces More Money For Precision Agriculture
Mcconnell Announces More Money For Precision Agriculture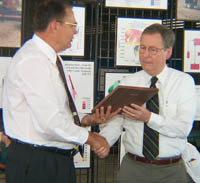 LEXINGTON, Ky.—
In a press conference at the new Animal Science Research Facility in Woodford County, Senator Mitch McConnell announced a $1 million grant from the United States Department of Agriculture for precision agriculture research at the University of Kentucky's College of Agriculture.
"This money for precision agriculture research will help the College of Agriculture stay on the cutting edge of new technology," McConnell said. "Hopefully, it's going to make it easier to maximize efficiencies and give us a chance to make it through these horrible years (of drought and low prices) and get to the good times."
Precision agriculture is broad term for many new technologies that are using global positioning satellites and geographic information systems to maximize inputs for efficient crop production. These inputs include seed, fertilizer, pesticides, soil and water.
"Any major undertaking in science and technology takes a good team. You can start at either end of that sector, but one of the teams we're extremely fortunate to have a team of sharp, top-level scientists," Oran Little, dean of the UK College of Agriculture, said. "This effort involves many disciplines, it involves the discipline of the mechanics, the biology, the actual what's happening down there in the soil, and the economics." "We've organized a team of farmers, of industry folks, who have come together to advise us as we've constructed this effort, " Little continued. "We have begun to come out of the lab and put some of the equipment on their fields to test this (precision agriculture) under applied conditions."
Shelby county farmer Mike Ellis has been working with UK specialists for about three years. He's using the technology on his farm and seeing great results in soybeans, corn, and wheat.
"I'm really excited about the possibility of continuing research by the university," Ellis said. "I'm excited about working with them because they're bouncing ideas off of me, an end user, and other producers in the state and wanting to know if it will help us. At the same time, it's a joint effort with industry."
McConnell requested $2.25 million in agricultural research funding, which has been approved by the Senate Agricultural Appropriations Committee. In addition to precision agriculture, grants will target research on new crop opportunities, improved grasses for livestock production and international agricultural marketing.