What began with an idea and some energetic volunteers has turned into a nationally recognized trial and demonstration garden.
The McCracken County Master Gardener Program of the University of Kentucky Cooperative Extension Service used its collective talent to make the greenhouse and the 1 1/2 acres where it sits into a premier educational spot. The efforts recently were awarded when the National Association of Garden Clubs named the site the national outstanding Garden Center for Education.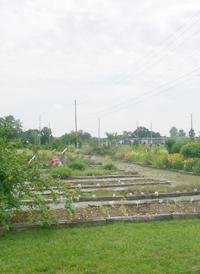 "It started as a dream in 1999 with the greenhouse, and we thought that gradually a few gardens would be added and we'd get people's interest involved in gardening," said Kathy Keeney, McCracken County Extension horticulture agent. "We thought it would be a place where people could see things growing. It's kind of escalated from there."
Master Gardeners will find different plants in their travels and bring one to the garden to see how it will grow in the area. The garden also is a Kentucky-grown plant evaluation site for UK and Kentucky Greenhouse Growers Association. They also are working with some national companies on seed and varieties. The Master Gardeners also agreed to become one of five Kentucky Grow gardens in the state. As a part of that program, handicapped accessible gardens are being added.
They also will be installing an 1803 garden surrounded by a wicker and wattle fence, a 1903 garden surrounded by a picket fence and a 2003 garden surrounded by a vinyl fence.
There already are display gardens, herb gardens, a geophyte garden, a butterfly garden, a hummingbird garden and a cutting bed. Trees have been planted so a shade garden eventually will be added.
"We are able to have our master gardeners and trainees do a lot of the work," Keeney said. "At the same time, we work closely with the Paducah community services center, which has inmates that come out and do some work as well. Garden Friends, a group that is interested in gardening but haven't gone through the Master Gardener program yet, also assist as do some Girl Scout troops."
Master Gardener is a volunteer program run through the University of Kentucky Cooperative Extension Service where participants go through educational training, obtain certification and then volunteer their time to various projects.
Nova Nuckolls is the advanced Master Gardener who oversees the demonstration and trial garden. Some say she practically lives there.
 "We talked about the demonstration garden and then got the county to let us use the property and somehow I got involved in it," she said. "My husband and I were retired so I probably had a little more time than others. The first thing was to get the greenhouse up and it's just developed from there. I've spent a lot of hours out here.
"I enjoy doing it, there's always more to be done," she said. "I'm really happy when people stop by and ask questions and we get to tell them what we are doing. We installed a small wooden gate up so people can stop by whenever they want.
Nuckolls said she was pleased to learn of the national award.                        
"It's really an honor," she said.
Carolyn Roof is the advanced Master Gardener who wrote the award application.
"This is not only a place of plants, but we use it as our base to go out and educate people," she said. "We work with youth, disadvantaged children, the halfway house, all age groups and handicapped.
"We work with nurseries and have brought in nationally known speakers," she said. "It educates the public and raises money so we can go out and continue to educate people."
They just completed the Spring Sampler, a plant sale, which raises money to help pay for the garden supplies. Master Gardeners are there to answer questions about the plants for sell.
A part of the Master Gardening program is for participants to give back to the community through the skills learned in the program. With the garden, they are definitely fulfilling that role, Keeney said.
Contact:
Kathy Keeney 270-554-9520