Minimizing Radon Risks Important for All Kentuckians
Minimizing Radon Risks Important for All Kentuckians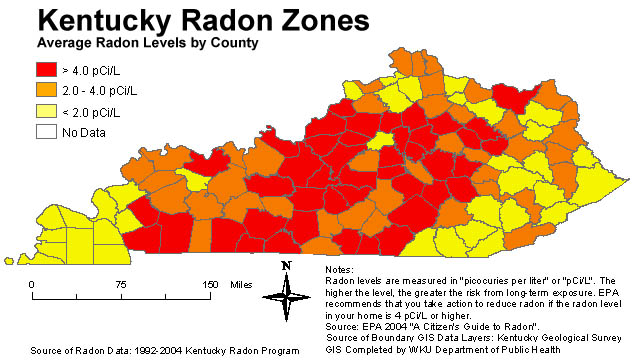 LEXINGTON, Ky.—
You can't see it. You can't smell it. You can't taste it. Yet, radon gas is an ever-present indoor pollutant that poses risks to people all across Kentucky. (click to see a map of radon by county at the bottom of this release)
"We do have a problem," said Heather Robbins, a University of Kentucky Cooperative Extension Service associate for radon education and awareness. "Almost 400 lung cancer deaths a year in Kentucky can be attributed to radon."
In an effort to create awareness about radon, a radioactive gas that is the second-leading cause of lung cancer deaths in the United States, Gov. Ernie Fletcher designated January as Kentucky Radon Action Month. The Kentucky Radon Program and its partners, UK Extension, Western Kentucky University and county health departments throughout the state, are busy this month spreading the word about the risks of radon exposure and how to minimize them.
"The main thing is we want people to test (for radon)," Robbins said. "You have to test to know if you have a problem in your home."
Radon is formed when uranium found naturally in the soil decays. It typically moves up through the ground and seeps into homes and other buildings through cracks and holes in the foundation. It is estimated that nearly one out of 15 houses in the United States have elevated radon levels.
Testing for radon is not expensive, Robbins said. In fact, many county health departments offer radon test kits for free. Neither is it time-consuming. Short-term radon test kits can provide results in two to 90 days.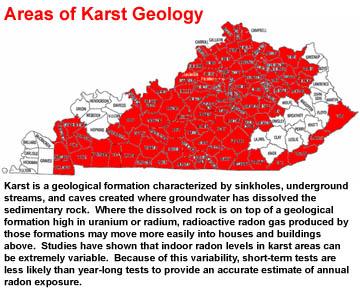 However, yearlong test kits are recommended for people who live in areas of the state characterized by karst geological formations – sinkholes, underground streams, caves and fissured rock. (The yearlong kits are also free and available at most local health departments.) In Kentucky, 92 of the 120 counties are known as karst areas. Studies have shown that indoor radon levels in these areas are extremely variable, and short-term tests are less likely to provide an accurate estimate of annual radon exposure.    
 "People worry about waiting a year (for the results)," Robbins said. "With radon, it's a long-term exposure. It's not like carbon monoxide, where you have it in your home a couple of days and you could become very ill from it. … But the sooner you get it taken care of the better."
Radon levels are measured in picocuries. The U.S. Environmental Protection Agency recommends levels less than 4 picocuries per liter (pCi/L) and advises people with levels of 4 pCi/L and above to take action.
"It's fairly inexpensive to fix a (radon) problem," Robbins said. "It may cost anywhere from $1,200 to $2,500 to have a professional fix it. … There are ways to do it yourself. It's good to have someone come in and do it because they know what they're doing. But if you're determined to do it yourself, we can help you."
When building a house, people are advised to "build it radon resistant," Robbins added. "It may cost about $300. It's just so much easier to build it into your home than to have to come back and fix it later."
Because Kentucky has a high number of cigarette smokers, Robbins said it's important to point out that people who smoke further increase their chances of getting radon-related lung cancer.
"What happens is, when someone in your house smokes, that smoke stays in the air … and radon, or the particles that it breaks down to, adheres to that smoke. That makes you breathe it in a little bit easier," she said.
In addition to educating people about radon exposure, Robbins said she and colleagues throughout the state are determined to bust the misperceptions that persist, including the belief that houses without basements are not at risk.
"It's not just a problem with basements; it's a problem with all types of homes," she said.
For more information about radon and radon testing, contact the local Extension office or health department. Information is also available on the Kentucky Radon Program's Web site. Or call 502-564-4856.