Monroe County 4-H club looks to grow Kentucky tabletop farming
Monroe County 4-H club looks to grow Kentucky tabletop farming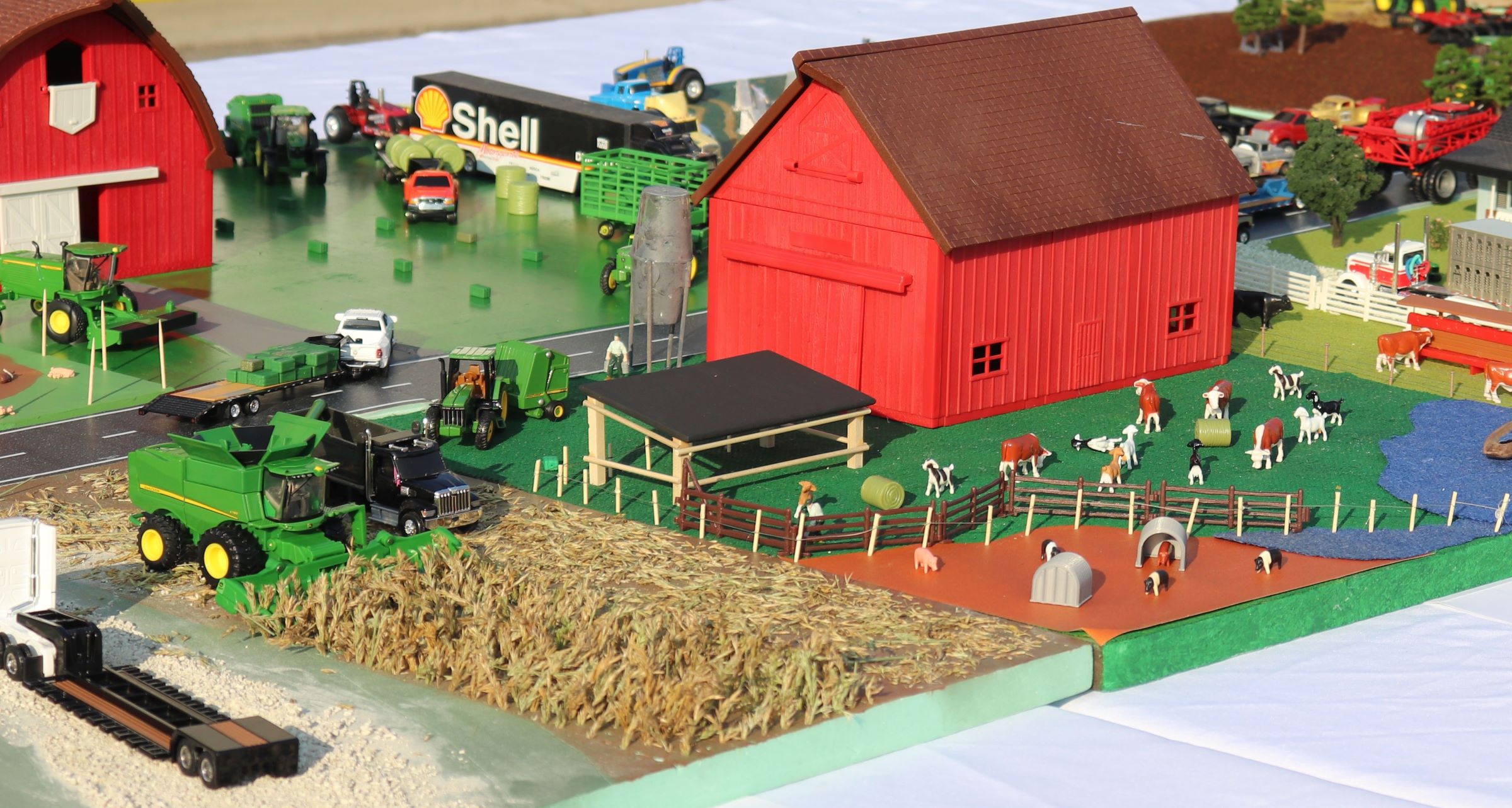 TOMKINSVILLE, Ky.—
In Tompkinsville, a small but passionate group of 4-Hers is on a mission to cultivate a love for farming one miniature tractor at a time. The Monroe County 4-H Tabletop Farmers Club is taking steps to sow the seeds of a larger movement they hope will spread across the state. 
Charolette Arnett, extension staff assistant for the Kentucky Cooperative Extension Service in Monroe County, part of the University of Kentucky Martin-Gatton College of Agriculture, Food and Environment, says tabletop farming is not just about toys and farm scenes; it's also about fostering a sense of community and camaraderie. 
"The members of our club find immense joy in harnessing their creativity to craft captivating farm scenes," Arnett said. "It's an opportunity for them to let their imaginations run wild, and the beauty of it lies in the ever-evolving nature of their projects." 
The creative process is far from static. The 4-Hers' display boards constantly mirror various living representations in multiple set-ups. Now the group wants to expand this beyond Monroe County's borders. 
"Our hope is for other counties to organize their own clubs as well so this may become a state program so our kids can have a state competition," Arnett said. "The club is committed to expanding its horizons and welcomes new members with open arms." 
Their recent participation in the CPC Commodities Annual Farm Field Day in Fountain Run, Kentucky State Fair and Tomkinsville's "Farming on Main" during June's Dairy Month demonstrates their dedication to community engagement. Here, visitors engaged with 4-Hers, learning about their projects and gaining insight into tabletop farming. 
The club's upcoming 4-H Toy Show event is another step toward their vision. Scheduled Oct. 21 from 9 a.m. to 2 p.m. CDT at the Monroe County Cooperative Extension Service office in Tompkinsville, the event features toy vendors offering a range of farm-related collectibles. The show also allows enthusiasts to buy, sell and trade their favorite miniatures. 
Club members are optimistic their show will ignite interest in other counties. 
"Hopefully, we will see tabletop clubs become as commonplace as livestock or other 4-H clubs," Arnett said. "Our commitment expanding the reach of our 4-Hers' passion is evident, and we welcome others to join us on this journey." 
Arnett says anyone interested in organizing their own county club, contact her or 4-H youth development agent Tina Hogue at 270-487-5504. 
– 30 –  
The Martin-Gatton College of Agriculture, Food and Environment is an Equal Opportunity Organization with respect to education and employment and authorization to provide research, education information and other services only to individuals and institutions that function without regard to economic or social status and will not discriminate on the basis of race, color, ethnic origin, national origin, creed, religion, political belief, sex, sexual orientation, gender identity, gender expression, pregnancy, marital status, genetic information, age, veteran status, physical or mental disability or reprisal or retaliation for prior civil rights activity.  
---
4 H Youth