Palli named chair of UK Department of Entomology
Palli named chair of UK Department of Entomology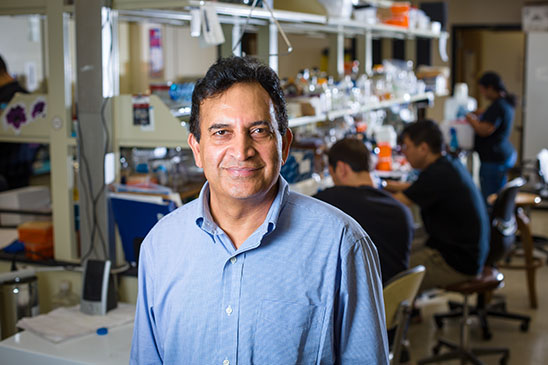 LEXINGTON, Ky.—
A professor with a passion for developing environmentally sound pest control methods is the new chair of the Department of Entomology in the University of Kentucky College of Agriculture, Food and Environment.
Reddy Palli is no stranger to the department, having served as a faculty member since 2002. He assumed his new role July 1 and will also serve as the state entomologist.
A native of India, Palli developed his passion for entomology as a child while watching his father farm. It was in India that he saw the impact improper use of pesticides could have on people's health. He has spent his career trying to find innovative ways to control troublesome insects.
"Reddy is an outstanding scientist who has made many contributions to the entomology department already," said Nancy Cox, college dean. "He has support of his colleagues to be their new leader, and there will be a seamless transition between him and former chair John Obrycki."
Within the entomology profession, Palli is best known for developing RNA interference technology that kills insect pests and fights resistance to insecticides, particularly in beetles and bed bugs.A gene switch technology he developed may have important human health implications and is in phase 3 clinical trials to fight cancer in humans.
Palli is the co-director of the Center for Arthropod Management Technologies, a National Science Foundation Industry/University Cooperative Research Center.
He has received numerous awards for his research and in 2014, was named a fellow of the Entomological Society of America for his outstanding contributions to the field. He has published 130 peer-reviewed journal articles, 20 book chapters, co-edited a book and is a co-inventor on 28 patents.
---
Entomology