Pawpaw Potential And Popularity Growing
Pawpaw Potential And Popularity Growing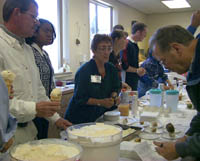 FRANKFORT, Ky.—
Many people remember pawpaws from childhood. They are true American natives which were used by American Indians well before Europeans came to North America.
Kentucky State University, in cooperation with the University of Kentucky, hosted the second annual Pawpaw Field Day at KSU's research farm in Frankfort, Ky. on Oct. 21. More than 130 pawpaw enthusiasts, producers, and some who were just interested in pawpaws, attended the informational event. Attendees learned about the history of pawpaws, tasted pawpaw products, learned how to store the fruit after harvest, and took a walk in the KSU pawpaw orchard.
People from all over the United States attended the field day including representatives from Florida, Tennessee, Georgia, South Carolina and Kentucky.
"We're very excited about and interested in pawpaws," Annie Black, Cookeville, Tenn., said. " We have several of the grafted varieties and we sell the trees. There's pretty big demand for the trees all over the US, even outside the US.
"People are very nostalgic about the fruit in our area," Diana Lalani, also of Cookeville, said. "They had them as a child, maybe even had a tree in their backyard."
The pawpaw is a great food source. In fact, pawpaws have more vitamins, minerals, amino acids and food energy value than apples, peaches and grapes.
"I think if we can create a demand for pawpaws, there will be a market," Edith Greer, Franklin County Extension agent, said. "Part of what they're working on now is to get a pawpaw that is consistently tastes good to the consumer. There's a lot of them out on the farms and there might be one that tastes good and one that tastes awful; we need a variety that consistently tastes good."
The fruit is best when fully ripe and with refrigeration can have a shelf life of up to three weeks. Pawpaws can be used in cookies, breads, cakes, puddings, pies, sherbets, and ice cream, just to name a few things.
"We're looking at how pawpaws should be handled after they are harvested," Doug Archbold, UK fruit specialist said. "We want to make sure once they get to the consumer or processor they are good quality and people like them."
Archbold compared the pawpaw to blueberries. One hundred years ago blueberries did not have their current popularity and were only found in the wild. He thinks the potential for pawpaws is great if the public is educated about the fruit.
With proper marketing and growing techniques, the pawpaw could be a viable option for tobacco producers wanting to add a fruit crop to their farming enterprise to supplement their income. The commercial potential is enormous. Pawpaws have a distinct flavor and a powerful aroma and may also be attractive landscape trees for homeowners.
Some research also is being conducted on the bark of the pawpaw tree. The tree naturally is pest resistant. "They are taking the bark and shredding it up to make an insect spray, trying to see if it has insecticidal properties," Greer said. "Because very few insects get on or feed on the pawpaw, a natural, organic insecticide would appeal to a lot of people."
Interestingly, the pawpaw is the only larval host for the swallowtail butterfly. The swallowtail peak in the summer months, when many butterflies surround pawpaw trees.
If you are interested in pawpaws, contact your county Extension office for more information. You can also get information on the PawPaw Foundation by contacting Snake Jones, 147 Atwood Research Facility, Kentucky State University, Frankfort, KY 40601-2355. Or, call Doug Archbold at UK, (606) 257-3352.