Plan Now for Winter Trees
Plan Now for Winter Trees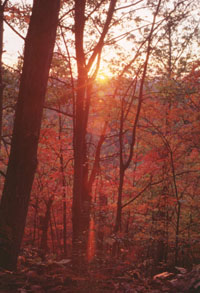 LEXINGTON, Ky.—
Now is the time to make preparations for planting winter trees in Kentucky. Whether you are planting for the Conservation Reserve Program, or planting for timber, wildlife, or aesthetic beauty, the successful establishment of a plantation takes planning.
"In Kentucky, we establish our plantations with one-to-two-year-old bare root seedlings," Jeff Stringer, extension forestry specialist for the University of Kentucky's College of Agriculture, said. "These seedlings normally should be planted in February or March; however, waiting until then to consider what you are doing will make it difficult, if not impossible to have a successful plantation."
Stringer pointed out three reasons to start making preparations now. First, the majority of plantations are composed of a mixed hardwood species. While pines also are planted in Kentucky, the majority of the state's highly-valued trees are hardwoods, such as black walnut, white and red oaks, and ash. These species are in high demand, so it's important to order seedlings in the summer or fall.
Secondly, it's important to contact a forestry professional to help choose suitable species for your land. It may be difficult to reach these foresters at planting time. Also, a forester can help determine the spacing and number of seedlings needed. Normally, trees in Kentucky plantations are planted eight-to-12 feet apart. For plantations established on an eight-foot spacing plan, there will be 680 trees per acre, and 300 trees for plantations with 12-foot spacing. It's good to order 10 to 20 percent more seedlings than the plantation needs.
Thirdly, Stringer emphasized the importance of early control for weeds in a plantation. In many cases, this control starts well in advance of planting.
"One of the primary reasons tree plantations fail is that owners do no properly control invading weeds and take care of heavy fescue ground cover," he said. "Replace fescue with a less competitive ground cover, such as orchard grass and clover, or a warm-season mix.
Stringer said to make sure that grass within two to three feet of the seedling is killed, if it can't be replaced with fescue ground cover. It's easy to do this by applying herbicides in strips or spots in the fall. After initially controlling the competition, continue weed control and grass for the first two to three years.
Establishing successful tree plantations is not difficult. A little planning now will go a long way to meet your objectives with minimum effort.