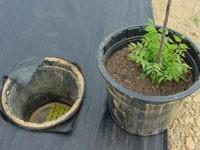 As twilight fell at Empire Nursery and Turf Farm, prospective nursery crop growers milled around the trees for a glimpse of a production system relatively new to Kentucky.
Pot-in-pot production is a hybrid of field and above ground container production. It uses a technique of growing trees in pots placed inside other pots that are permanently placed in the ground.
A pot-in-pot demonstration was held at the Utica farm of Bob Blandford, who is participating as a cooperator with the University of Kentucky College of Agriculture. He is one of four pot-in-pot cooperators in western Kentucky.
"We are cooperating with him to develop a pot-in-pot production system on his farm so that we have an example to show other people, and so he can share his experience with others who might be interested," said Amy Fulcher, UK Extension associate for nursery crops. "With Bob as a demonstrator we will collect data to continue to fine tune our data base of knowledge of pot-in-pot production because it is still relatively new in this state."
Pot-in-pot is gaining interest in the state, and some of the reasons are that growing trees can be very profitable, it allows for harvesting and selling trees any time of year, no overwintering structure is needed and no special harvesting equipment is needed.
In this production method, trees can be spaced more closely together than in traditional field production, and trees remain upright on windy days and are buffered from temperature fluctuations unlike traditional above ground container production.
The production system is expensive to install so growers need to have a fairly high-value plant and carefully research their markets before making the investment. The cost estimates range from $12 to $20 per hole or $20,000 to $30,000 per acre. Costs vary depending on the equipment the producer has and labor availability, Fulcher said.
Blandford advised prospective growers to think twice before they dig, and have everything on hand when the process begins. Otherwise, rains or other problems can result in unfinished rows having to be dug again.
"I guess I would tell everyone to keep it small and keep something you can manage and take care of and then grow from there," he said.
Blandford said his decision to add pot-in-pot to his mix of production practices was two-fold.
"I decided to go with pot-in-pot simply because the retail we were doing," he said. "Plus, if you look at field grown you can hire your digging done and you'll pay extra every time or you can buy you a piece of equipment. It was $36,000 for the digger I wanted and this whole pot-in-pot system won't cost that.  And I certainly couldn't see me buying a digger until I had trees ready to dig. This allowed me to have something to start from and turn a profit on. It also gave me a great accessible yard for landscapers who want something during the summer. I don't know of any landscaper that doesn't love this idea."
For more information on pot-in-pot production contact your county Extension office or Fulcher at 270-365-7541 ext. 279 or afulcher@uky.edu.