Program Allows Exchange of Culture and Ideas
Program Allows Exchange of Culture and Ideas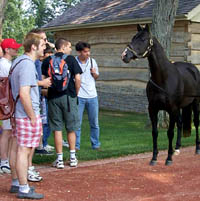 LEXINGTON, Ky.—
In 1990, Steve Riggins, agricultural economist for the University of Kentucky College of Agriculture, realized a need for an international student exchange.
"Land grants have a long history of working with less developed countries," Riggins said. "We never do things with developed countries. I started thinking about the French and how we can learn something from them."
By 1992, students from UK and Etablissement National d'enseignement Superieur Agronomique de Dijon, a technical school in Dijon, France, were traveling across oceans to experience agriculture and life in each other's countries. The students from ENESAD are fulfilling part of the requirements for a five-year technical-based study program. They are required to have three internships during this five-year period; at least one in laboratory and one on some type of farm.
Twelve ENESAD students arrived on the UK campus June 21, 1999 and will stay seven to eight weeks. Three more students will arrive in August. The first week was spent touring Lexington and Kentucky attractions, including farms, historical landmarks, and the state capitol. On the other side of the exchange, six UK students currently are in France; two working on farms, four in labs. Six other UK students participated in an agricultural study tour for two weeks earlier this summer.
"They (french students) are good workers," Mike Reed, director for international programs for the UK College of Agriculture, said. "They are part of lab teams with our students. They bring their perspective on everything. The three students coming in August will be valuable to horse farms preparing for the September yearling sales."
With any international exchange, a language barrier does exist.
"Most of the UK students are not proficient in French," Joe Davis, associate dean for instruction for the UK College of Agriculture, said. "They can't take full advantage of their experience. On the other hand, the french students are fairly proficient in english, which allows them a broader integration into our system."
The paid internships provide students from both countries a chance to experience a different culture. Agriculture in the U.S. and Europe is very different. The students learn the worldwide nature of agriculture and see how the world is interrelated.
"We hope to expand this program in the future," Davis said. "It's important for students to get international internships and experience a different culture. I wish all our students could do it."