Proper grain bin management saves lives
Proper grain bin management saves lives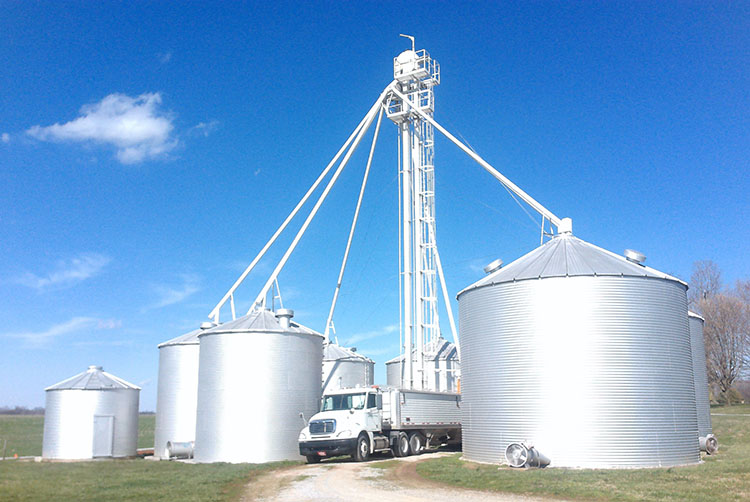 LEXINGTON, Ky.—
To view the video, click here.
This spring, grain producers across the Midwest, including those in pockets of Kentucky, are dealing with grain quality issues in storage bins that are causing problems during unloading. As producers address these issues, it is important they follow proper bin management techniques to ensure they stay safe, said Sam McNeill, agricultural engineer in the University of Kentucky College of Agriculture, Food and Environment.
Already this year, seven U.S. producers, including one in Kentucky, have lost their lives in grain entrapments, falls or equipment-related incidents on the farm.
"Tragically, when grain quality issues occur in storage, it tends to lead to an increase in entrapments and sometimes fatalities as producers try to unload spoiled grain from bins and piles," he said. "If they have grain flow problems this spring, I hope farm families will take proper precautions to stay safe and healthy."
Spoiled grain often develops large clumps that stick together either on the grain surface, in the center of the bin and/or on the bin wall, clogging outlets and not emptying as it should. Some of the grain harvested last fall was placed in bins at high moisture levels (above 15% for corn and 13% for soybeans) or not cooled thoroughly to below 40 degrees F in the fall. Producers also may be dealing with condensation on bin walls or roofs, which causes the grain to spoil and stick together. In addition, producers may not have cored their bins or cleaned their grain to remove fines, which interfere with air movement. A high density of fines in the center of the bin reduces airflow, which leads to heating in that zone and often spoilage. When left unchecked, this can result in a large clump of grain blocking the flow. When crusty grain dislodges, it could cause tons of grain to collapse without warning.
"When producers struggle to get grain moving out of a bin, they sometimes face a great temptation to ignore safety practices to get the bin unloaded, but this is extremely dangerous as it can cause entrapment, suffocation and death," McNeill said. "While it is important to remove the grain from the bin to minimize any further spoilage, they need to do so with utmost caution."
McNeill is joining agricultural engineers from across the country in encouraging producers to be safe and offering the following safety tips to help them do so.
Do not enter bins when unloading equipment is running or showing signs of crusty grain.
Keep children away from grain unloading equipment and out of bins altogether.
Remove grain suspected to be out of condition as quickly as possible to prevent large crusty grain formations or additional spoilage.
Observe grain condition from outside of the bin from the top access hatch and have someone with you when you do. They can call for help if something happens.
Sometimes, producers can use long probes to break up crusty grain or dislodge clumps of fines or trash that are blocking grain flow. However, producers should only use them from outside of the bin. Be sure to work in pairs and stay clear of overhead power lines.
Do not cut the sidewalls of the bin to try to remove the clogged grain without first contacting the bin manufacturer. This could damage the bin's structural integrity and cause the structure to collapse.
Enlist the help of a professional grain salvage company. While they are expensive, they can save lives.
Producers can receive more information on spring drying considerations for high moisture grain and safe management practices for unloading spoiled grain by watching a webinar recorded by Ken Hellevang, extension agricultural engineer at North Dakota State University. The webinar is available at https://www.ag.ndsu.edu/graindrying/documents/spring-2020-grain-storage-and-drying-best-management-practices-safety-guidelines. The National Grain and Feed Association is hosting Stand Up for Grain Safety week April 13-17. Producers can find grain safety educational information related to the week at https://standup4grainsafety.org/. The filmmakers of the movie about a grain entrapment, "SILO," have re-released the short documentary, "SILO: Edge of the Real World," which inspired the feature film. Producers can view the documentary at https://bit.ly/2UQWbkA.
Kentucky producers may be able to receive funds from County Agricultural Investment Programs to offset the cost of personal protective equipment for grain inspections, such as dust masks, respirators, climbing harnesses and lock-out, tag-out kits. Producers should contact their local agriculture and natural resources extension agent to see whether local CAIP funds are available.
---
Biosystems Ag Engineering
Crops
Extension