Racing industry partners join with UK to support promising mRNA biomarker research into preventing catastrophic racehorse injuries
Racing industry partners join with UK to support promising mRNA biomarker research into preventing catastrophic racehorse injuries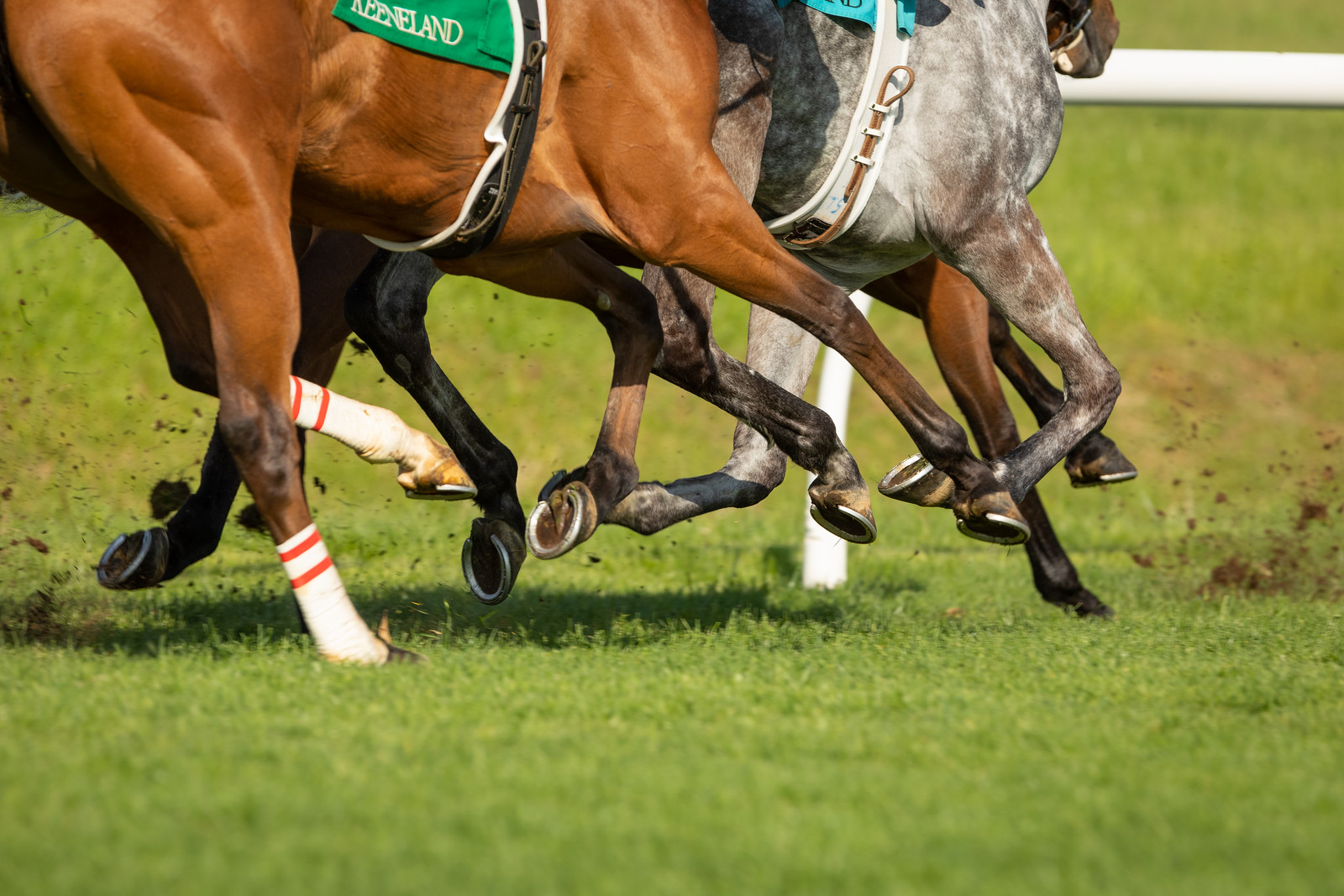 LEXINGTON, Ky.—
Catastrophic injuries in Thoroughbred racehorses are a top concern for the industry and for its fans. Researchers at the University of Kentucky's Gluck Equine Research Center share that sentiment and recently began a large study to validate previous research suggesting it is possible to detect specific markers that indicate an injury before it becomes career- or life-ending.
According to project lead Allen Page, staff scientist and veterinarian at the Gluck Center, and project collaborator Emma Adam, assistant professor and industry liaison at the Gluck Center and UK Veterinary Diagnostic Laboratory, the end goal is to be able to conduct an inexpensive and straightforward pre-race blood test identifying horses at risk of catastrophic injury, possibly allowing for intervention before those injuries happen. Previous research has shown that a majority of catastrophic injuries occur in horses with underlying or pre-existing musculoskeletal pathology, leading to the theory that catastrophic racing and training injuries are due to the accumulation of damage over time at a rate that exceeds the healing capacity of affected tissues.
Based on prior work in both human and equine athletes, Page and his colleagues have developed an approach for identifying this underlying damage using mRNA expression analysis of blood samples. The team has shown that horses with catastrophic injuries have significantly altered expression of IGF-1, IL1RN and MMP2 when compared to non-injured control horses. The researchers also recently found three new mRNA biomarkers that show further promise to predict injury.
To validate these findings, a new study began in February and will run for 12 to 16 months, utilizing 15,000 blood samples taken pre-race at three Southern California tracks. Samples are being drawn in tandem with standard pre-race testing, helping to make collection for the large research study more efficient. Initially, all samples will be stored before those from injured and select non-injured horse samples are analyzed and differences compared between the two groups.
Based on previous data and the planned collection of the samples, the research team anticipates they will test 10-15 catastrophically injured horses during the study.
According to Page, the blood test looking at the significant mRNA markers is correct 75-80 percent of the time when trying to identify a horse that will have an injury. The end goal for the team is the development of an easy-to-use and affordable blood test to help owners, trainers, veterinarians and others make informed decisions benefiting the welfare of the horse.
"We appreciate our partners who have helped us do this large and complex project for the benefit of safety on the racetrack and to protect our human and equine athletes," said Nancy Cox, vice president for land-grant engagement at UK and dean for the College of Agriculture, Food and Environment.
"The collaborative support from the racing industry for this groundbreaking research resulting from this project is evidence of its significant contribution toward protecting our equine racing athletes," said Stuart Brown, veterinarian, vice president for equine safety with the Keeneland Association and Gluck Equine Research Foundation Board chair. "Dr. Page and the team of the Gluck Center have endeavored to provide those of us entrusted with the safety of the racehorse with a tool that can be utilized to objectively assess the individual horse for biomarkers contributing to our understanding of an individual risk profile for that specific horse. The commitment from this team over the course of several studies while collecting samples across multiple jurisdictions represents a remarkable alignment of interests around the need to further our understanding of musculoskeletal injury in the racehorse."
Funding for the current phase of the research has been provided by the Kentucky Horse Racing Commission's Equine Drug Research Council, Keeneland Association, The Stronach Group, New York Racing Association, Breeders' Cup Limited, Thoroughbred Owners and Breeders Association, Kentucky Thoroughbred Association, Del Mar Thoroughbred Club and the Thoroughbred Owners of California. Additionally, the California Horse Racing Board, the Thoroughbred Owners of California and the California Thoroughbred Trainers are also owed a special note of gratitude for their support of the project and for helping to enable the project's undertaking. 
 "Not surprisingly, a study of this size is both logistically challenging and expensive," Page said. "That we have such outstanding financial and logistical support from leaders in the racing industry speaks not only to the wide-reaching impact of catastrophic injuries, but also to the industry's hope that this project will provide a real-world solution to preventing injuries."
"Multi-year support is essential to sustaining our research productivity," said Dan Howe, interim director of the Gluck Center and interim chair for the UK Department of Veterinary Science. "As such, the Gluck Center is grateful for the Kentucky Horse Racing Commission's investment in the first two phases of this project and to the broader consortium within the equine industry that has committed resources to complete the final phase of this important study aimed at safeguarding the health of racehorses. We are very enthusiastic about this specific project and the positive impact it will have for the horseracing community."
---
Equine