Register early for teen forest leadership program
Register early for teen forest leadership program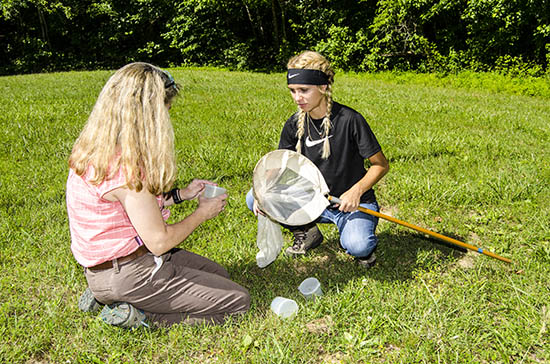 LEXINGTON, Ky.—
Kentucky's wealth of natural resources offers a bounty of learning opportunities. The Kentucky Forest Leadership Program, June 4-9, provides a hands-on learning experience in forestry, entomology and wildlife for students entering their junior or senior year of high school.
Instructors and advisors are trained forestry and natural resource professionals from the University of Kentucky College of Agriculture, Food and Environment, UK Cooperative Extension Service, the Kentucky Division of Forestry, the Kentucky Department of Fish and Wildlife Resources and the Kentucky Division of Conservation.
No matter in which option they enroll, students will learn how every part of the forest works together to make a thriving ecosystem. Students enrolled in the forestry option will learn about tree and plant identification, forest evaluation and management, soil and water quality evaluation and fire management in Kentucky forests. The entomology section will focus on insect identification, collection, preservation, ecology and the impacts of insects on Kentucky forests. Wildlife students will use different techniques to sample, identify and manage wildlife and conduct species diversity and population surveys in various Kentucky habitats.
The program, though an overnight camp, is not recreational, but an experiential learning activity. Participants in all three options can expect a busy schedule of forestry and natural resources-related activities.
Participants will stay in hotel-type housing at UK's Lake Cumberland 4-H Educational Center located in Jabez, about 20 miles west of Somerset. With meadows, woodlands, a still-water wetland and a tributary stream that is spring-fed and flows into Lake Cumberland, students can experience a variety of ecosystems within walking distance.
Laurie Thomas, extension forester in the UK Department of Forestry and program coordinator, said often the campers come to learn if natural resources is a field they'll want to pursue for a career.
"It's a great opportunity for them to see their possibilities and to meet people who they can contact in the future if they're really interested," she said.
To be admitted to the program, a student should have a C average, or 2.0 or higher GPA, and show genuine interest in any aspect of natural resource management. The fee for the five-day program is $400, which includes a $50 non-refundable application fee. This amount covers all programming costs, lodging and meals. A limited number of scholarships are available. Those interested in pursuing a scholarship should contact Mark Davis of the Kentucky Division of Conservation at 502-564-2320, ext. 739.
Enrollment is limited to 25 students. Up to two applications per county will be accepted on a first-come, first-served basis. Registration deadline is May 5, but organizers urge those who are interested to apply early in order to have the best chance at being admitted to the program.
For more information contact Thomas at 859-257-2703 or laurie.thomas@uky.edu. Additional information about the camp and scholarships is available on the program's website, http://www.KYForestWildlifeCamp.org.
---
Entomology
Environment
Events
Extension
Forestry