Retired ag dean receives prestigious leadership award
Retired ag dean receives prestigious leadership award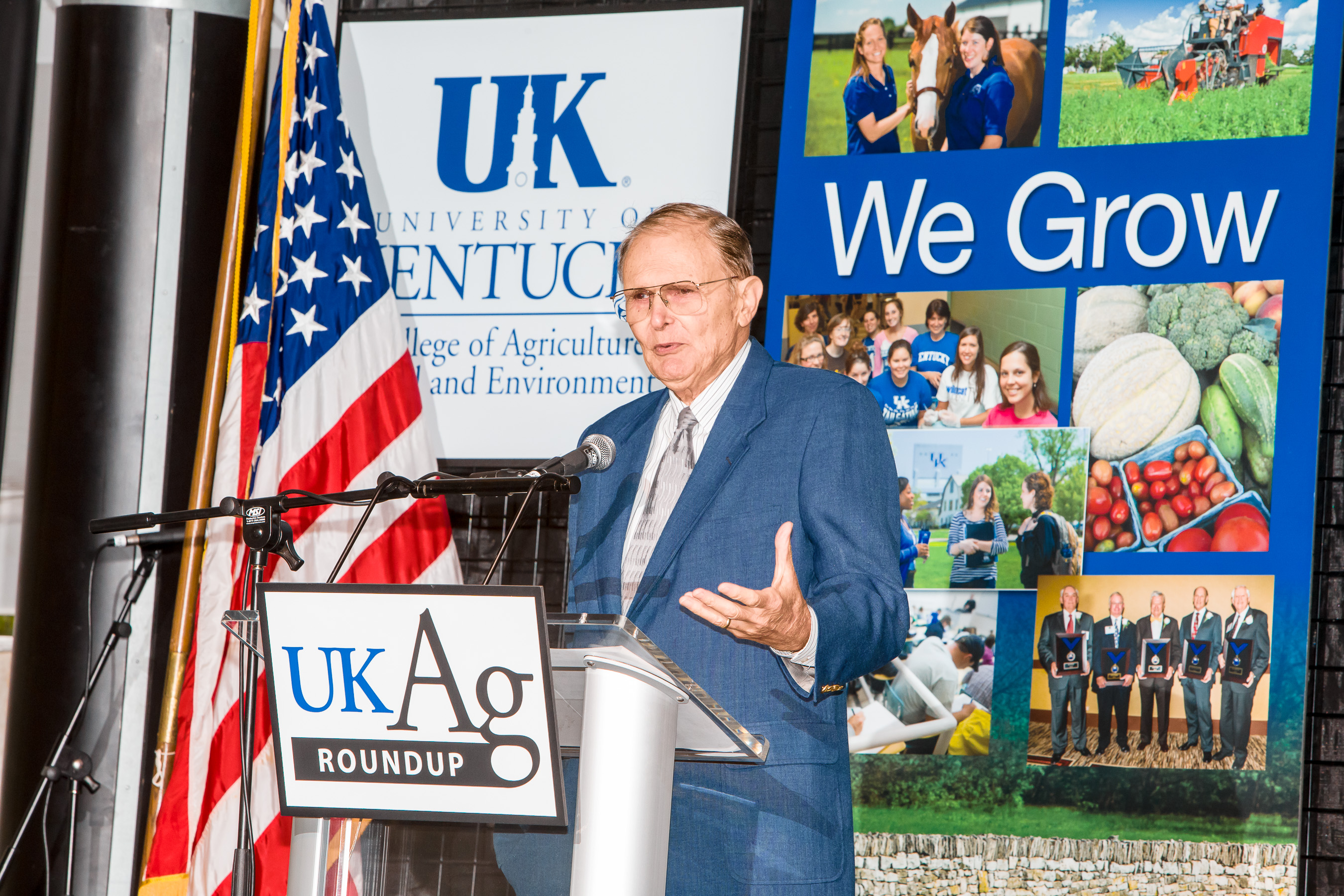 LEXINGTON, Ky.—
C. Oran Little, retired dean of the University of Kentucky College of Agriculture, Food and Environment, received the 2016 Harold Workman Leadership Award during the annual Agribusiness Network's Farm City luncheon in Louisville.
"I am humbled to accept this award, and I do so in honor of all the others who have worked through the years to improve the agriculture industry of this state," Little said. "As I look to today's leaders, I think we are in good hands."
Little, a nationally distinguished animal nutrition researcher, served as dean from 1988-2000. During his tenure as dean and director, the college's academic, research and extension programs provided invaluable services to the state and gained substantially in national and international attention.
"Oran is known not only for his leadership but also for his wisdom and his patience," said David Beck, executive vice president of the Kentucky Farm Bureau, when presenting the award.
The leadership award pays tribute to the men and women who have given unselfishly of their time and efforts in service to Kentucky's agriculture industry. The Farm City Luncheon is held annually during the North American International Livestock Exposition. The award is named in honor of Harold Workman, who served for many years as president and chief executive officer for the Kentucky State Fair Board.
"Although Oran has been retired a few years, he always has Kentucky agriculture on his mind," said Nancy Cox, dean of the College of Agriculture, Food and Environment. "This prestigious award is most appropriate for someone of his dedication. The college is proud and honored for this wonderful recognition of Dr. Little."
Little began at UK in 1960 and progressed through the ranks to full professor in 1967. From 1969-1985, Little served as associate dean for research and associate director of the Kentucky Agricultural Experiment Station. He left for a short time to serve as vice chancellor for research at the Louisiana State University Agricultural Center and director of the Louisiana Agricultural Experiment Station before returning to UK in 1988.
Early in his administration, Little led successful efforts to convince decision makers and the public of the need and tremendous opportunity for a new research farm, uniting statewide agricultural leadership in support of this initiative.
When a 1,500-acre site along U.S. Highway 60 in Woodford County became available, the Kentucky General Assembly appropriated funding to acquire the farm property and, soon after, to replace the aging farm structures with modern research buildings. In 2010, the UK board of trustees approved naming the farm the C. Oran Little Research Center.
Since retirement, Little continues to serve in leadership and support roles through organizational board appointments and event participation to advance education and agriculture development at the local, state and national levels. He also serves in several leadership roles in his local church.
---
Awards