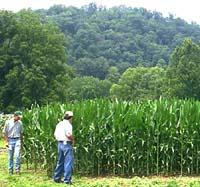 More than 600 people flocked to Quicksand, Ky. July 19 to celebrate the seventy-fifth anniversary of Robinson Station, an experiment station for the University of Kentucky College of Agriculture. Field day staples such as demonstrations, tours and exhibits were big hits with visitors.
Scott Smith, dean of the College was on hand to dedicate a landmark in honor of the anniversary. The landmark was the cornerstone from the sawmill that stood on the grounds before the station was built. Plaques with Robinson Station history and pictures were attached to each side and it was placed in an area locals call "the triangle."
Smith said Robinson Station has always had a strong agricultural component that will continue to be of help to eastern Kentucky.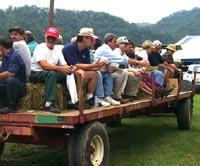 "Agriculture and natural resources are part of the key to the future in eastern Kentucky," he said. "Diversification, fruits and vegetables, small livestock opportunities, utilization of forest products -- all of those things will be really important in the future. I think with the new direction of the university, we're going to see a greater emphasis than ever before on community and economic development, and it will benefit this station."
Smith said the greatest accomplishments at the station have been in forest products, in terms of the training programs that have been there for wood utilization. Significant research areas have also included developing new grass varieties and size-appropriate farming techniques.
Many former Robinson Station superintendents were on the grounds to join in the celebration, including current superintendent, Mason Morrison. Morrison has been affiliated with the station for 32 years and has been superintendent since 1986. He is retiring this year.
Morrison said Robinson Station has always focused on the needs of the small landowner in Eastern Kentucky.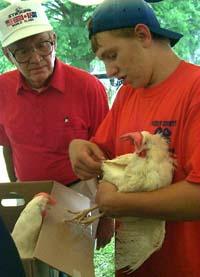 "The landowners here are never going to be large landowners. Eighty to 90 percent of their land is wooded," Morrison said. "So crops we're talking about now are cantaloupes, watermelons, gourds, pumpkins, bell peppers, hot peppers, tomatoes, and some medicinal herbs like ginseng and goldenseal.
Morrison is proud of the stations unique accomplishments and the way they are always trying to do things that will benefit the region.
"This year was a banner year for blueberries," he added. "We tried them here in the past and it didn't work, but we tried again a few years ago, and this was our first real production year. They are averaging over 15 pounds per plant. It's been hard to keep them picked."
Wood products and forestry research will surely be at the heart of Robinson Station's mission in the future. Smith believes Robinson Station has great future opportunities in many research areas in addition to forest products.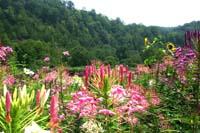 "There are tremendous opportunities in some areas, forest products is one," Smith said. "Forest products are a remarkable example of where we have great potential for economic growth. I think the future is unlimited if we have the opportunity to make the investment."
Contact:
Mason Morrison 606-666-2215