Seasoned by fire: UK Fire Cats wrap up their first wildfire season
Seasoned by fire: UK Fire Cats wrap up their first wildfire season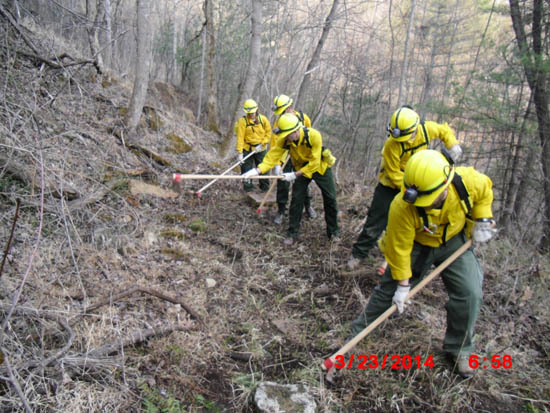 LEXINGTON, Ky.—
On any given weekend, when smoke curled over the mountains, the University of Kentucky Fire Cats could get the call. That call to fight some of the state's wildfires during the recent spring fire hazard season came pretty regularly this year. The Fire Cats' inaugural fire season turned out to be a bad one.
Over the past 14 years, Kentucky has averaged about 1,500 fires and almost 56,000 acres burned each year. The state has two fire hazard seasons—spring and fall. This year's spring fire hazard season alone, which ran from Feb. 15 through April 30, saw 1,171 fires burn 35,613 acres. There were plenty of opportunities for the young firefighters to learn the ropes.
Andrew Nielsen, one of the three Fire Cats squad leaders, came into the new program with more experience than most. For the past six years, he has battled blazes in Oregon, where the Kentucky native lived for awhile. But for many of the Cats, this season was their first. Trained by the U.S. Forest Service and employed by the Kentucky Division of Forestry, the students are receiving "a brilliant opportunity," according to UK Department of Forestry Chair Terrell "Red" Baker.
"Not only do they get in a few extra hours and earn some money, but they get excellent hands-on training that enables them to find jobs in the summer that could ultimately lead to career opportunities," Baker said.
Chris Osborne, manager of UK's Robinson Forest in the southeastern part of the state, is the Fire Cats' crew leader and the unofficial liaison between the group, the Kentucky Division of Forestry and the Daniel Boone National Forest, which is managed by the U.S. Forest Service. He explained that wildland fires in this part of the country are different than western fires, which often spread rapidly through the canopy, fueled by evergreens. In hardwood-dominated Eastern Kentucky, fires usually run across the ground's surface, fueled by leaf litter or logging slash.
"That being said, there are conditions and times that fire activity in Eastern Kentucky can be extreme. There are fires where you'll have one- to two-foot flame heights, but we do have some grass fires and other fuel types that can create some extreme fire activity with much higher flame fronts," Osborne said.
One of the fires Nielsen and his squad helped extinguish was a slow 15-acre fire burning in mixed hardwood and leaf litter in Lee County.
"It had been skulking around on the ground for a day or so," Nielsen said. "Out west that fire would have taken at least a day to get control of, where here, you get two people on a blower blowing all the leaves away and people burning behind it, and you're pretty much around it…. It took maybe an hour and a half. It was that quick, which is amazing to me."
MacKenzie Schaeffer, another squad leader, has been interested in fighting wildfires for a long time.
"I always thought it would be really cool to go out west and fight the big wildfires, but that's a big step to take," she said. "When they started offering this program, I thought it would be a great opportunity for me to find out if it's something I really like or want to do when I graduate and make a career out of it. It's been an awesome opportunity, and I've loved it.
Schaeffer recalled her first fire.
"We did a mop-up, which is where you walk back through and check the line to make sure nothing's blown into it or across it to start a fire," she said. "When you go through the training, there's no actual fire, so we got to see things in action."
To prevent a trailer backed up to grass from catching fire, Schaeffer's squad got to dig the line and then set a backfire to run the flames away from the trailer and towards what had already burned.
"I like using the drip torch," Schaeffer said and laughed.
The idea for the Fire Cats grew out of the Department of Forestry's long relationship with the Daniel Boone National Forest, said E.J. Bunzendahl, forest assistant fire manager officer for the Daniel Boone. Since 2011, UK forestry students have had to take fire training as a mandatory course for their degree. The U.S. Forest Service, through Bunzendahl and her staff, facilitate the online version of the wildland firefighter training. Students spend between 40 and 60 hours completing the online portion of the class, which culminates in an eight-hour required field day that the Daniel Boone National Forest hosts.
"We have a participating agreement signed between the University of Kentucky Department of Forestry and the Daniel Boone National Forest that says we'll help each other; we'll provide the class and they offer consultation assistance to us," Bunzendahl said.
Alabama A&M University and Virginia Tech both field teams of student firefighters, so when Baker saw how interested his students were in taking the mandatory course, he considered fielding a team. He spoke with Dan Olsen, who at the time was director of fire and aviation management for the Southern Region of the U.S. Forest Service. Olsen brought Bunzendahl on board, who called the Kentucky Division of Forestry.
"On the Daniel Boone, we average less than 100 fires a year, and the Kentucky Division of Forestry averages about 1,500 or 1,600 fires a year," Bunzendahl said. "If you want to get some experience, you'll have a little more opportunity working for them than you will right here on the Boone. KDF was instrumental in getting this program off the ground."
Leah MacSwords, state forester and director of KDF, gave the idea her approval and Mike Harp, assistant fire chief with the division, started making the arrangements to work with the UK students. KDF employs the students and has provided all their equipment. Both Harp and his supervisor, Luke Saunier, are graduates of the UK Department of Forestry, and they immediately saw the benefit to the students.
"When we both came into the Kentucky Division of Forestry, we were not prepared for the firefighting aspect," said Harp, who graduated in 1996. "If I would have had this back in school, it could have really helped me understand things a bit better. I would have been ahead of the curve."
The Fire Cats have helped KDF, too. Harp accompanied one of the squads on what he called a "somewhat complicated small 10-acre fire."
"When I say complicated, it was because of the terrain," he explained. "If I would have let the crews they had on-site at the time fight that fire, it probably would have taken two or two and a half hours to put it out. But with the UK Fire Cats there, with that added personnel, we knocked it out in probably half the time. They really made a difference up there."
In Osborne's eyes, it's a win-win situation.
"So far, there's been really positive interaction with these kids. They've asked really good questions, and they're engaged, and they've been hardworking," he said. "So far it's been a great success."
The 2014 UK Fire Cats include James Baunach, Andrew Hagerty and Andrew Nielsen, all from Louisville; Christopher Bullock from Winchester; Lexingtonians Austin Combs, William Ellis, Kristian Elswick and Taylor York; David Corr from Fort Thomas; Sam Cox from Riverside, Illinois; Tyler Frame, from Maysville; William McCormick from Inez; Cody Pyles from Monticello; Josh Robinson from Elizabethtown; MacKenzie Schaeffer, Derwood, Maryland; and Richard Tamer from Shelbyville, who was the third squad leader.
---
Environment
Forestry