Sharon Stone receives 2023 Bill Best Award, recognizing community commitment
Sharon Stone receives 2023 Bill Best Award, recognizing community commitment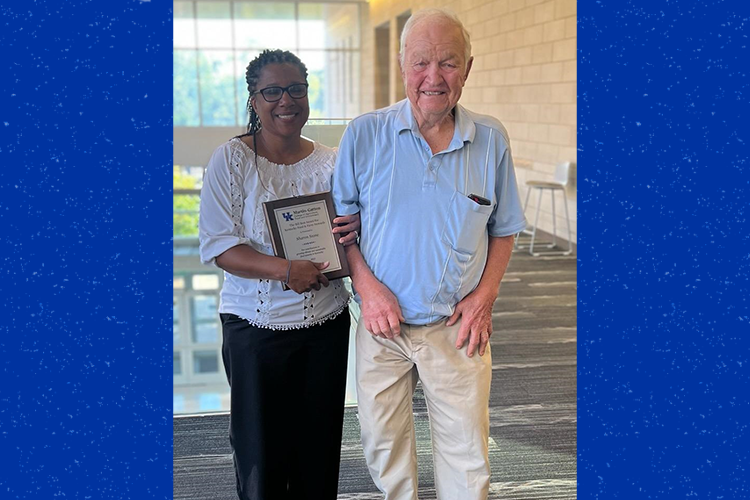 Lexington, Ky.—
The 2023 Bill Best Food Award for Food and Farm Stewards recipient is Sharon Stone for outstanding contributions to her community. The award celebrates individuals who go above and beyond to support their communities and promote sustainable food systems. The award is named for Bill Best, collector and preserver of heirloom beans, author and director of the Sustainable Mountain Agriculture Center. 
"Sharon has a long history connecting with people, both in her role as a teacher and for helping members of the Woodhill Community access fresh, locally-grown food," said Ashton Potter Wright, executive director of The Food Connection, the applied local food systems center at the University of Kentucky Martin-Gatton College of Agriculture, Food and Environment that established the annual award in 2018. 
Stone's journey began in 2019 when she joined the Market Gardeners Program through Seedleaf, an organization dedicated to empowering local growers. When she retired from teaching elementary school in 2021, she took the opportunity to devote her time to growing more vegetables. Stone's commitment to her community and passion for food systems led her to embrace this opportunity. 
"The Market Gardeners Program and Seedleaf introduced us to chefs, provided essential classes and encouraged us to establish our businesses," Stone said. "But when the pandemic struck, everything changed. I saw the need in my community, and I knew I had to help." 
Stone took on the role of farmer liaison and committed to growing as much food as possible for the Woodhill International Market. Urban Impact, under the umbrella of the Lexington Leadership Foundation, is the fiscal sponsor for the market and vital to ensuring access to fresh local produce for underserved communities. It operates on a sliding scale to accommodate everyone, regardless of income or background. 
"We don't ask questions about where people come from or their income," Stone said. "We just want to provide fresh, affordable food to anyone who needs it."  
The Woodhill International Market is open on Thursdays from 5 p.m. to 6:30 p.m. ET, and customers may order online and pick up their order when the market is open. The market accepts SNAP benefits, further enhancing food accessibility. 
The award recognizes Stone's work to provide affordable fresh food, grown with integrity by small-scale gardeners and farmers to their communities in an equitable and affordable way. 
"Sharon's tireless passion for growing fresh food and nourishing her community through education and example ensures that her former students and their families have access to nutritious food and demonstrates that small-scale farmers are essential to a thriving local food ecosystem," Wright said. 
---
Awards
Community Development