Shearing School registration open
Shearing School registration open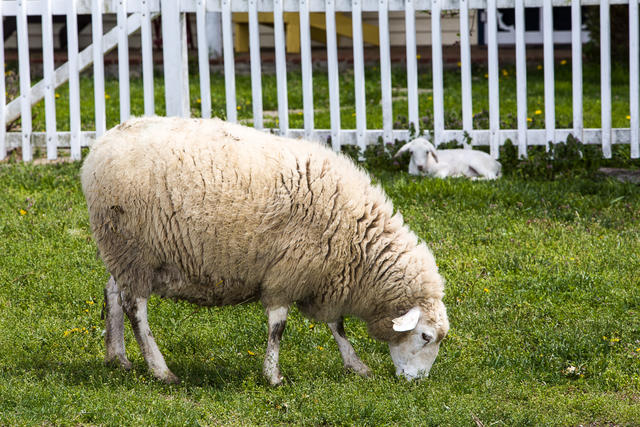 LEXINGTON, Ky.—
 After a long, hard winter, Kentucky sheep are ready to part ways with their wooly winter coats. Learning to shear sheep is vital to having a quality flock. The University of Kentucky College of Agriculture, Food and Environment will offer sheep producers a chance to learn shearing techniques in a hands-on shearing school March 25-26 at the C. Oran Little Animal Research Center in Woodford County.
While it may be one of the most basic management skills in raising sheep, shearing is one of the most important. Producers who shear their own sheep can save valuable dollars and have the satisfaction of making their enterprise more self-sufficient.
Sponsored by the Kentucky Sheep and Wool Producers Association in cooperation with the UK Cooperative Extension Service, the two-day school will be relevant to beginning and experienced shearers. Professional sheep shearers Steve and Colin Kennedy will teach the most current shearing methods and the maintenance and care of shearing equipment.
This school is not designed for young children; participants must be at least high-school age. The Kentucky Sheep and Wool Producers Association and UK do encourage participation by senior 4-H and FFA members and will pay the registration fee for the first six 4-H or FFA registrants.
The school begins at 8:30 a.m. EDT both days and will wrap up with a summary at 3 p.m. March 26.
Organizers recommends participants wear "old clothes," exercise a few weeks before coming to the school, bring their own shears if possible.. Participants must not have been out of the United States in the seven days before the school begins.
Due to space limitation, participation in the Shearing School is limited to 12 participants. Preregistration is open until March 21 online at http://www.uky.edu/Ag/AnimalSciences/sheep/2014BeginnerSheepShearingScho.... A registration fee of $150 is due by March 21 for selected participants and should be sent to Shearing School, Don Ely, 904 W.P. Garrigus Bldg., University of Kentucky, Lexington, KY 40546-0215. For more information, call or email Ely at 859-257-2717, dely@uky.edu.
-- 30 –
---
4 H Youth
Extension
Livestock
Sustainability