Small Ruminant Grazing Conference Feb. 2 in Morehead
Small Ruminant Grazing Conference Feb. 2 in Morehead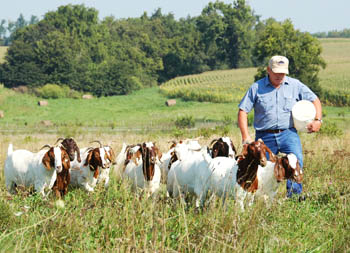 Small ruminant production has steadily grown in Kentucky, and the state's farmers have realized the potential of raising sheep and goats.
The University of Kentucky College of Agriculture is teaming up with the Kentucky Sheep and Goat Development Office, the Kentucky Goat Producers Association and the Kentucky Sheep and Wool Producers Association to offer the 2013 Kentucky Small Ruminant Grazing Conference at the Morehead State University Farm in Morehead. Scheduled for Feb. 2, the conference will offer many sessions for all levels of experience.
"We have learning opportunities for anyone who is interested in raising small ruminants," said David Ditsch, director of the UK Robinson Center for Appalachian Resource Sustainability in Quicksand. "As in the past, we will present science-based research that producers can apply in their own operations."
The daylong event begins with a welcome at 8:30 a.m. EST, followed by an economics and marketing update at 8:40 a.m. Sessions begin at 9:15 a.m. Morning sessions will focus on forage management, reproduction and health management. Topics include:
·         Getting acquainted with sericea lespedeza
·         Environmental stewardship for small ruminant production
·         Reproduction and causes of abortion and infertility
After lunch, Seyedmehdi Mobini from Fort Valley State University will discuss small ruminant health and management.
Two goat producers and two sheep producers will come together for a producer panel discussion at the end of the day. The regular meeting will adjourn at 3:30 p.m. Participants can attend an optional FAMACHA training at 3:45 p.m. FAMACHA is program designed help producers of small ruminants diagnose parasite infection.
Preregistration, due Jan. 25, is $25 for the conference and an additional $15 for the FAMACHA training.
Those planning to attend the conference should send name, address, phone number and email along with payment to UK Robinson Center for Appalachian Resource Sustainability, Attn. Jackie Allen, 130 Robinson Road, Jackson, KY 41339.