Students get paid to study in Brazil
Students get paid to study in Brazil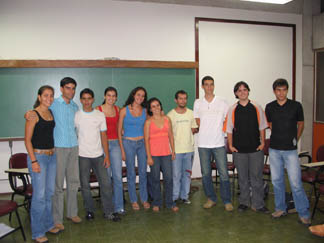 Published on Feb. 17, 2012
On the flip side of the equator, four students from the UK College of Agriculture's Department of Biosystems and Agricultural Engineering left a Kentucky winter to study in a Brazilian summer. That's not the only advantage they can claim from their sojourn south. The students are gaining invaluable experience by studying agricultural engineering in a cross-cultural environment. Even better-their semester in Brazil is fully funded.
The Fund for Improvement of Post-Secondary Education is a joint project between the United States and Brazilian governments that underwrites an exchange program between the two countries. Students involved in the program receive a stipend that covers their expenses. The exchange program does not interfere with a student's graduation date. To date, only biosystems and agricultural engineering students have participated in FIPSE, however, the program is open to all engineering students.
"We primarily work with two universities in Brazil," said Tim Stombaugh, biosystems professor. "Universidade Federal de Viçosa is geared toward agriculture studies-agricultural engineering is actually the only engineering discipline taught at the university-and Campina Grande offers engineering, but not agriculture. Because the program has afforded the possibilities for such synergy, we have welcomed several mechanical and electrical engineering students from Brazil to our campus."
Graduate student Sam Mullins, who studied in Brazil during the 2008 fall semester, appreciates that he had the opportunity to observe engineering applied in a different context.
"Immersing myself in Brazilian culture, meeting new people and living life as a Brazilian was the perfect way for me to learn and appreciate the importance of engineering-particularly in agriculture-as a way to help a rapidly developing country progress faster," he said.
One of the differences between the American and Brazilian students in the program is proficiency with the host country's primary language. Whereas Brazilian students arrive at UK with a strong command of English, their American counterparts often know little Portuguese. To help the students gain facility with Portuguese, students participating in the spring semester leave approximately eight weeks prior to the start of the semester and take part in a language immersion experience. As a result, students are more equipped to interact with faculty and understand the technical aspects of the course lectures and labs.
Stombaugh said between 50 and 60 Brazilian students apply for the program each semester and, given the stringent entrance requirements for biosystems and engineering students at Universidade Federal de Viçosa and Campina Grande, those accepted into FIPSE are the universities' top students.
"The Brazilian students understand the value of an education outside Brazil," he explained, "They know that to succeed in the world and in global economies, they need to gain exposure outside their own country. While they are here, they make contacts, gain knowledge and broaden their horizons. We would like to build that same desire into our students."
Students interested in obtaining more information about FIPSE can contact Stombaugh at (859) 257-3000 ext. 214 or tim.stombaugh@uky.edu.
Contact: Tim Stombaugh, 859-257-3000, ext. 214
---
Biosystems Ag Engineering