Tar spot found in Kentucky corn
Tar spot found in Kentucky corn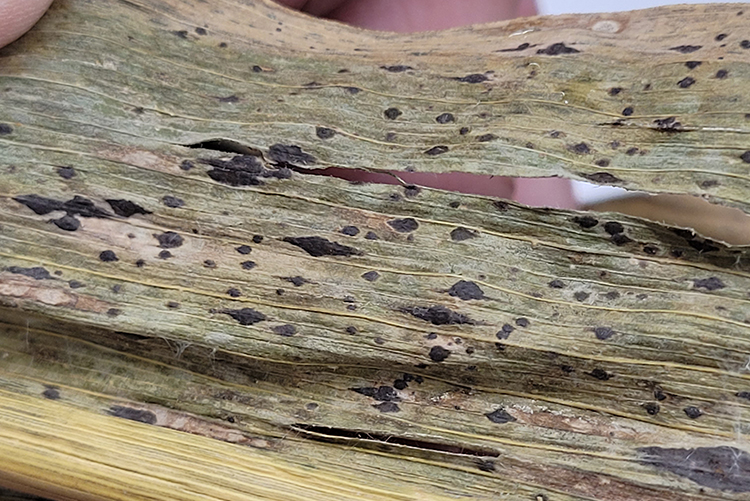 PRINCETON, Ky.—
The University of Kentucky Plant Disease Diagnostic Lab in Princeton confirmed the state's first case of tar spot on corn during the week of Sept. 13.  
Curt Judy, Todd County agriculture and natural resources extension agent, submitted the diseased sample from an inbred corn line that was part of a local breeding trial. It was not found in a commercial corn field. The disease was found on plant leaves. 
"At this point in the season, no management is needed if tar spot is confirmed in a field, but it is important to alert your county extension agent if you observe the disease so we can document distribution in the state," said Kiersten Wise, extension plant pathologist with the University of Kentucky College of Agriculture, Food and Environment.  
Tar spot is caused by the fungus Phyllachora maydis. The first signs of infection are small, black, irregular-shaped structures called stromata on leaf tissue. The stromata will protrude from the leaf and feel rough or bumpy. This bumpy feel of the fungal stromata also distinguishes tar spot from dark spots caused by saprophytic growth on senesced plant tissue. Tar spot may also appear on the leaf sheaths, husks and tassels. Unlike dirt or insect excrement, producers will not be able to wipe tar spot lesions off the leaf.  
Tar spot is a foliar disease, originally found in the Caribbean, Central America, Mexico and South America. It first appeared in the United States in 2015. Since then, it has spread across the Midwest, north into Canada and as far south as Florida. The fungus that causes the disease can overwinter in the United States.  
Yield losses can range from none to more than 50 bushels an acre, depending on hybrid susceptibility, infection timing and environmental conditions. Research has indicated fungal infection and growth occurs under moderate temperatures (70s F) and high humidity.    
"Research on tar spot is ongoing and has primarily occurred in northern states," Wise said. "It is unknown what impact tar spot will have in Kentucky and how management recommendations for the disease in other areas will apply in Kentucky." 
Kentucky producers who suspect they have the disease should work with their local extension agent to submit samples to the UK Plant Disease Diagnostic Laboratory for diagnosis.  
Producers can find more information about tar spot on the Crop Protection Network's website https://bit.ly/3Crpq08.  
---
Crops
Extension