Teamwork Key to Challenge Camp
Teamwork Key to Challenge Camp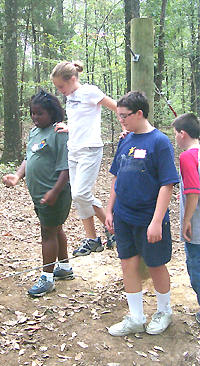 DAWSON SPRINGS, Ky.—
To successfully overcome the obstacles in the woods at the West Kentucky 4-H camp, teamwork is required.
Students from Greenville and North Todd Elementary schools participating in the two-day Challenge Camp learned to trust their teammates, do some problem solving and have some fun as they maneuvered through the low-ropes course. The University of Kentucky Cooperative Extension Service's 4-H agents from Muhlenberg and Todd counties sponsored the recent Challenge Camp.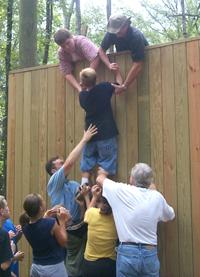 Obstacles along the course included a suspended wire that had to be used as a crossing, a wall to be climbed, a spider web to climb through without touching and seven others.
Greenville Elementary Principal Debbie Vick said she was shown the course last year and thought the camp was a good teaching tool.
"We were impressed with the concept of team building, working together, because that is really the wave of the future with industry and with getting anything done," she said. "If you can't do teamwork it really makes it rough on everyone."
Vick said they decided to bring fifth and sixth grades to the camp.
"It works right into our practical living core content," Vick said.  "What they have to do is have trust in their fellow classmates which fosters relationships, and then to accomplish the course they have to work together which is so true in society."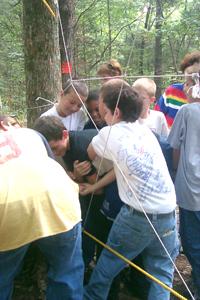 Before going to the course, students go through some relationship building exercises such as being blindfolded and following another person's directions to make it through an obstacle course, or falling backward and letting someone catch them.
Muhlenberg County 4-H agent Tommy Harrison said the facilities are fairly new and these are the first challenge camps with last week's being his third of the year.
"The students are broken down into small groups and work as a team to figure out the seven elements and how to get through it," he said. "They are developing some problem solving skills, developing trust, doing some critical thinking, using some cooperation skills, communication skills and hopefully having some fun while they are out here too."
At each of the elements along the course is a trained facilitator. It takes a lot of volunteers to put together the two-day event, Harrison said.
Lee Ann McCuiston, Todd County 4-H agent, said she's held leadership camps over the years and when the ropes courses were added she incorporated them into her program.
"Our main goal is to bring out facets of leadership, and it's not just standing up and dictating what needs to be done. It's listening to others, communicating, gathering ideas, brainstorming, listening to ideas that maybe don't seem to matter – that maybe don't seem like the solution to a problem and realizing that it will work."       
The courses seem to bring out leadership in students that aren't typically leaders in the classroom, she said.  And the usual leaders see they can't do it alone, but need a team to be successful.
"There's a lot of frustration in these groups, but once you sit down and process it
the students realized that they worked together as a group. And because we listened to everybody's ideas and tried the idea that maybe wasn't the most popular, we were able to solve this problem," McCuiston said.