If the rest of the state felt the ground beneath them suddenly slope toward Lexington recently, there was good reason. A record-breaking number of high school students descended on the University of Kentucky campus for the 46th annual FFA/4-H UK Field Day. Coming from three states and as far away as the northwest corner of Ohio, 2,002 teenagers gathered to compete, to network and to learn about the educational opportunities available in the UK College of Agriculture, Food and Environment.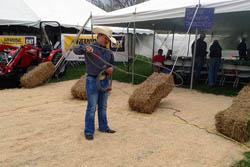 Blaine Miller from the Bullitt East FFA Chapter was there, showing off his skill with a lariat in the outdoor-recreation demonstration area. Anthony Curry, Green County, came to take part in the auctioneering competition. And in front of the food science judges, Chelsea Childers and Trent Farmer demonstrated their butter-making know-how.
The ag campus was buzzing with agriculture's future generation.
Kentucky Commissioner of Agriculture Ryan Quarles and Larry Grabau, the college's associate dean for instruction, greeted the students in an opening ceremony that resembled a pep rally.
Quarles told the students that not long ago, he sat where they were sitting and reminded them that they were going to be the ones to meet the challenge of feeding the world's 9 billion people in 20 or 30 years.
"Here in the college," Grabau said, "we like to say 'We Grow', and you are entitled to finish that sentence in any way you'd like. You can say, 'We grow futures.' You can say, 'We grow communities.' You can say, 'We grow opportunities.'"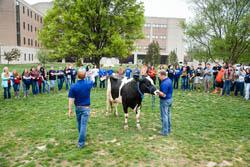 Students from more than 60 Kentucky schools, as well as Ohio and Indiana competed in more than 20 events. From as far west as Marshall County, as far east as Johnson County, Boone County in the north and Pulaski County in the south, and places in between, teens in work boots and jeans or FFA jackets and high heels scattered into sections to show off their skills and knowledge in areas that included a quiz bowl, horticulture, engineering and technology, floriculture, the equine industry, nurseries, forestry, veterinary science, land and soil, livestock judging, meat judging and food science.
"They're using this as a springboard for when they compete at the state fair. It's a good dry run," said Stacy Vincent, UK assistant professor in agricultural education and event organizer.
Vincent said the high school students were not the only students to benefit from the field day. College students in his course, Youth Organizations, helped plan and run the field day.
"My thinking is, if they're going to be an ag teacher or a 4-H agent and they'll have to put on these types of events, what better way to learn than to immerse them in the process," he said. "If they get through this, if they've put on an event for 2,000 people, they're not going to be scared when they go into a job interview and are asked, "How do you feel about handling 100 young people in your program?' I think part of the reason we're on a five-year, 100 percent hiring rate of our graduates is because we put them in these experiential learning situations."
At the end of the event, competition winners received their own UK T-shirts as well as plaques to hang in their schools or extension offices, and everyone, whether they placed or not, took home memories of an extraordinary experience.
Contact:
Stacy Vincent, 859-257-7588